16 Palestinian children receive life-changing cochlear implants in Israel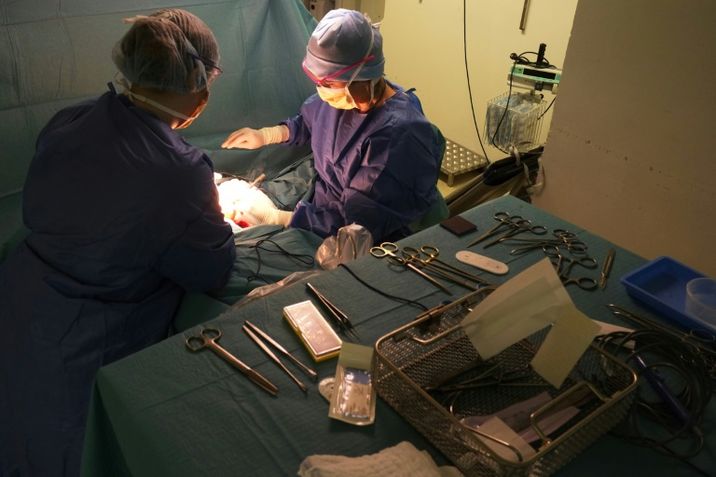 Doctors operate on a patient in the one-day surgery department at the Institut Curie hospital in Paris
DOMINIQUE FAGET (AFP/File)
Six of the procedures were done in a marathon day in January
Jerusalem's Hadassah Ein Kerem Hospital and the Peres Center for Peace teamed up in an initiative to provide 16 deaf Palestinian children from the West Bank and Gaza with cochlear implants over the past year, the Ynet news site reports.
Six of the procedures were done in a marathon day last month, said Ynet.
A cochlear implant has two main components, a microphone which is placed around the external part of the ear, and a wire and small electrodes surgically implanted under the skin. The electrodes transmit the sounds picked up by the microphone, stimulating the cochlear nerve and communicating the sounds to the brain.
The implant does not allow hearing in the traditional sense, producing a sound sensation instead, and paired with therapy allows the person to be aware of sounds in their environment.
Dr. Michal Kaufmann, who conducted the surgeries, told Ynet that "the operations posed quite a logistical challenge. Many authorizations were required from the Defense Ministry, some of the children arrived without a medical record and required extensive tests at Hadassah, alongside the emotional and psychological treatment."
Gazans require a special permit to enter Israel for medical treatment, as do citizens of the West Bank, however the process is slightly easier for them than for Gaza residents.
Cochlear implants are a common procedure in western countries, but less widely available in struggling communities such as the Palestinian territories. 
The situation in Gaza is particularly difficult, where electricity is available only for about eight hours a day and at times there are shortages of medical supplies.
"This is an amazing project that gives these children the opportunity to step out of their world of silence and live their lives normally and fully," Dr. Kaufmann explained to Ynet.
"These children couldn't speak prior to the surgery, they were bereft of any supporting environment, uncommunicative. The surgery opened up their world, the ability to communicate and spread their wings... We are happy to have been able to contribute to such a dramatic change in their lives." she added.