Palestinian Authority suspends ties with UNRWA over curriculum reform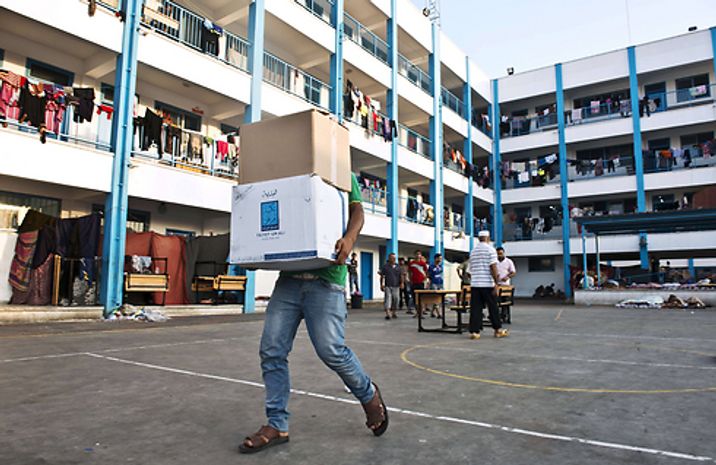 Une école de l'UNRWA à Gaza
AFP
Israel argues that current curriculum demonizes Israel and promotes martyrdom, terrorism
The Palestinian Authority's education ministry announced on its official website Thursday that it would halt ties with the United Nations relief and Works Agency (UNRWA) organization until it would agree to "correct the position" of its curriculum.
The ministry released the statement following the agency's curriculum reform, calling it an "affront to the Palestinian people, its history and struggles."
The changes have not been formally published by the agency.
The Times of Israel reported that leaks to Arab press reported the UNRWA was proposing such changes to its current curriculum that would include revisions of maps of Palestine and cities inside Israel considered Palestinian cities.
According to the Arab media reports, the new changes would also "improve Israel's image," according to Times of Israel.
The UNRWA has founded schools with over 312,000 students in the West Bank and East Jerusalem, and 262,000 in the Gaza Strip.
According to a March report by COGAT, the Israeli Defense Ministry agency responsible for civilian affairs in the West Bank and Gaza, the changes would bring a more "balanced representation of Jerusalem as having religious significance to the three major monotheistic religions (Islam, Christianity, and Judaism), and mentioning that Muslim believers have access to the holy sites."
"UNRWA additionally sought to amend textbooks in cases where the content showed gender bias, lacked objectivity, and incited violence against Israel," COGAT added, praising the proposed changes that would "create a balanced, positive curriculum with universal values free from violence and incitement."
However, the Palestinian ministry responded in Thursday's statement that, "Any distortion of the Palestinian curriculum is a flagrant violation of the laws of the host country, and any change to any letter to appease any party is a betrayal of the Palestinian narrative and the right of the Palestinian people under occupation to preserve its identity and struggle."
"It is UNRWA policy to review and where appropriate enrich the official PA textbooks, curricula and other learning materials used in UNRWA schools to ensure compliance with UN values and principles," said a UNRWA spokesman.
Previous reports from various watchdog groups have suggested the curriculum in textbooks taught at Palestinian schools incited terrorism and violence against Israelis, demonizing them and promoting martyrdom.