Artifacts from World War I battle uncovered in Israel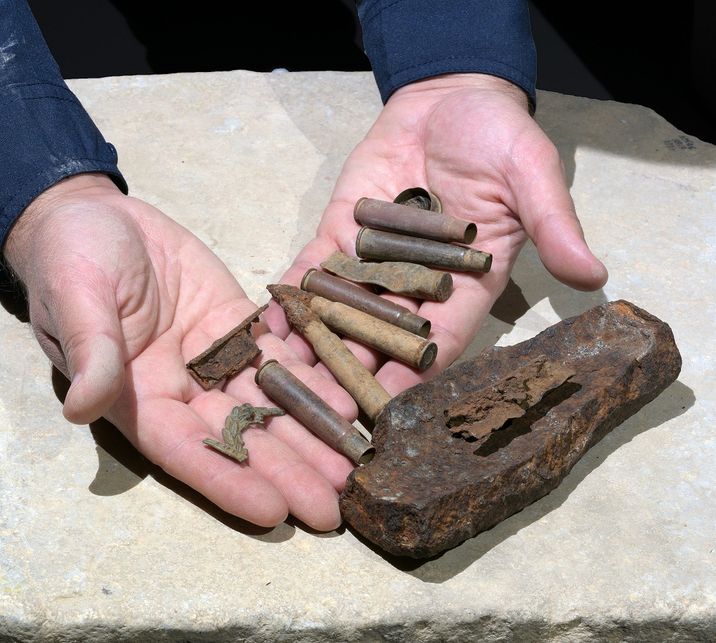 Some of the bullets, cartridges and shell fragments found at the site.
Clara Amit, Israel Antiquities Authority
Experts say relics are from fighting between British and Ottomans in 1918 Battle of Megiddo
Israeli students on Tuesday revealed the discovery of dozens of artifacts left over from fierce fighting between the British and Ottomans in the First World War, including dozens of rifle cartridges and shell fragments.
Archaeologists and students from a pre-military preparatory program also found a fragment of a British army cap insignia near Rosh Ha'ayin in central Israel, which led to archaeologist Shahar Crispin establishing that the insignia belonged to the British army's Norfolk Regiment.
Israel Antiquities Authority (IAA) researcher Assaf Peretz noted that Ottoman and British forces clashed at and around the site during the major Battle of Megiddo that began on September 19, 1918.
"Two battalions, the 1/4th 1/5th of the British Norfolk Regiment, attacked the ridge where the excavated site is located, in order to assist another battalion that attacked the Ottoman fortifications," a press release quoted Peretz as saying. "Finding the British cap insignia inside the Ottoman outpost vividly illustrates the historical event."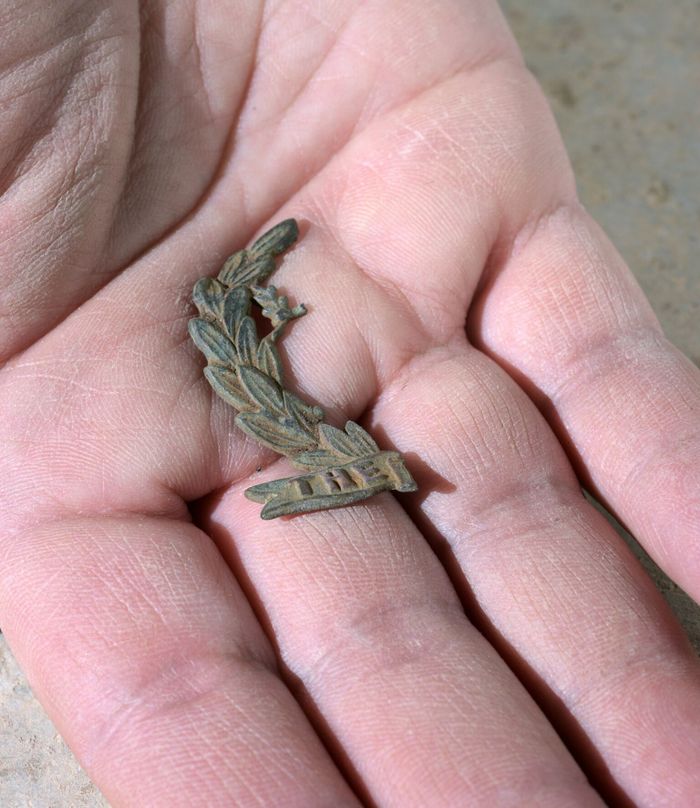 The battles in the area were part of a larger campaign that pitted the Yildirim Army Group made up primarily of Ottoman troops with some Germans against the Egyptian Expeditionary Force consisting mainly of British troops, including units from its dominions and colonies.
IAA weapons expert Alexander Glick reconstructed the fighting at the site: "The British forces shelled the Turkish positions with their 18 pounder guns, which were the standard field artillery piece in the British Army during World War I. Fragments of artillery shells and shrapnel balls were found in the excavation. It seems that the Turkish forces sustained serious casualties from this barrage.
"Nevertheless, they responded with massive light arms fire aimed at the British forces, as can be seen from the bullet cartridges of the Mauser rifles that were discovered in the Turkish positions," he continued. "It is interesting to note that the rifles and cartridges were manufactured in Germany and were supplied shortly before the battle, evidence that the Turks were dependent upon their German allies for weapons and ammunition."