Israeli police probe ultra-Orthodox flyers likening IDF service to Auschwitz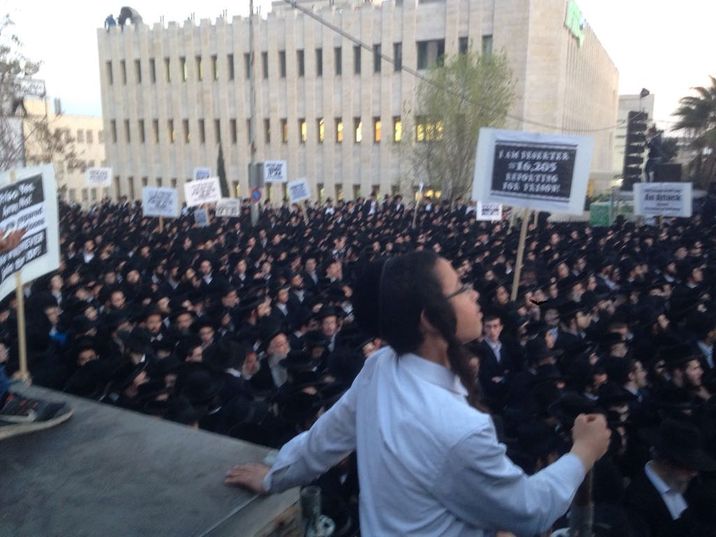 Ultra-Orthodox protesters in Jerusalem
i24NEWS
"For how long will you burn Jewish souls in the crematoria of Auschwitz?" leaflets ask
Israeli police have launched an investigation after extremist ultra-Orthodox protesters distributed flyers comparing a top Israel Defense Force (IDF) officer to Hitler and likening army service to the notorious Auschwitz death camp.
The pamphlets were dropped on the ground outside the home of Maj. Gen. Moti Almoz, head of the IDF's Manpower Directorate, in the northern village of Kfar Tavor where dozens of ultra-Orthodox men gathered to protest the draft of religious men and women into the army, the Times of Israel reported.
The leaflets called on God to avenge those men and women "whose souls were burned in the army of destruction by the soul dealer...Moti Almoz." 
"For how long will you burn Jewish souls in the crematoria of Auschwitz in the army of destruction?" the pamphlets asked.
"Your end will be bitter like that of Hitler and his friends," they warned.
Police launched an investigation into the incident after top IDF brass and Israeli lawmakers condemned the incident and called for the prosecution of those involved.
Defense Minister Avigdor Liberman deemed the protesters' actions "harsh incitement" saying the incident was "intolerable and crosses every red line."
IDF Chief of Staff Gadi Eiesnkot expressed "revulsion" at the protests and called on authorities "to act to bring in the people responsible for this ugly act."
Members of the ultra-Orthodox community, who represent about 10 percent of the Israeli population and live in compliance with a strict interpretation of Jewish laws, have been exempt from service since the founding of the state.
But their draft exemption has long remained a controversial issue in Israel, and the government has made efforts to compel ultra-Orthodox Jews to either serve in the military or perform national civilian service.
Ultra-Orthodox opponents have held a number of protest against those efforts, as well as against the arrests of religious yeshiva students who ignore orders to report to an army recruitment office to receive their exemptions.
There have also been attacks against members of the ultra-Orthodox community who do choose to enlist in the army. 
In March, protesters hung and burned a number of effigies of ultra-Orthodox Jews serving in the army in prominent places in Jerusalem's ultra-Orthodox Mea Shearim neighborhood.