Israeli and Palestinian women hold peace talks on the streets of Tel Aviv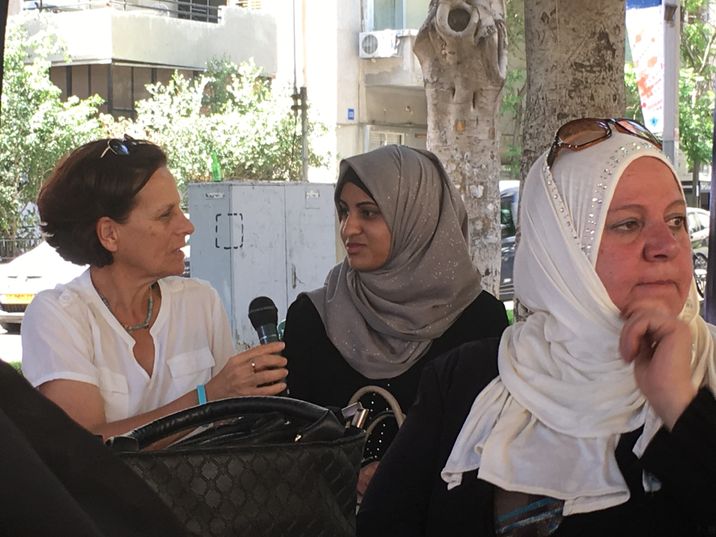 Israeli and Palestinian women hold peace talks on the streets of Tel Aviv, May 19, 2017
i24NEWS
In first ever all-women peace congress, delegation from West Bank comes to Tel Aviv for public peace talks
While clashes between Israeli security forces and Palestinians erupted across the West Bank and Gaza Strip on Friday, some 150 Palestinian and Israeli women gathered on Rothschild Boulevard in central Tel Aviv to engage in public negotiations to find a solution to the Palestinian-Israeli conflict.
The women's conference, which hosted a delegation of Palestinian women from the West Bank, was organized by Congress of the People, an organization which facilitates public negotiating sessions between Palestinians and Israelis while emulating past attempts at backchannel diplomacy in order to encourage average citizens to participate in the peace process.
Some 20 tables lined the bustling boulevard as passers-by snapped photos of the energized women who exchanged stories of personal hardship and engaged in heated debate.
Each table was assigned a translator and a moderator whose job it was to help the participants reach concrete solutions and ensure all voices were heard.
"I hope this will be the first step towards a solution," Shushu Barak, one of the moderators told i24NEWS. Barak is from a Kibbutz and spent her professional life in sales and trade, but she was motivated to get involved in dialogue sessions two years ago.
"I realized we made a mistake in 1967," Barak said, explaining that she hopes these discussions will help each side understand the other side better.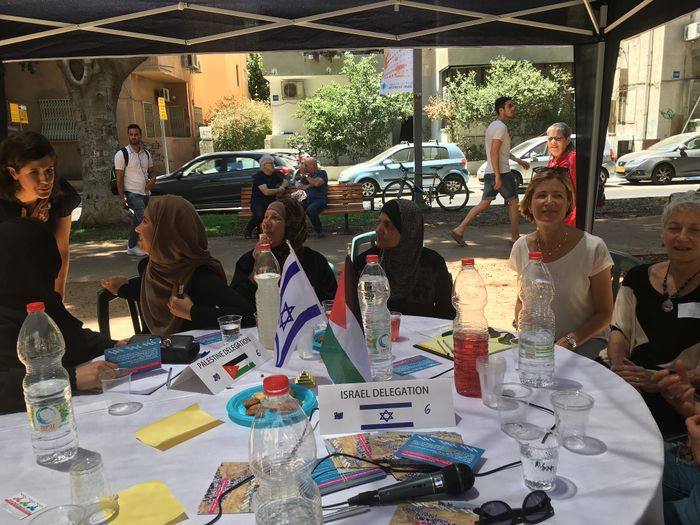 While many of the Israeli women raised concerns about their personal security, the Palestinian women shared stories of hardship and their daily lives in the West Bank under the military control of the Israeli Defense Forces (IDF).
The hardship was highlighted as the Palestinian delegation arrived three hours late due to ongoing clashes in the West Bank, which put the IDF on high alert with heightened security measures.
Many of the women went to great lengths to obtain permits in order to enter Israel and the entire delegation was delayed by Israeli security forces at the checkpoint. Several women were also refused permits and could not participate.
"We want peace and we are against violence," said Samah, a woman from Nablus who asked not to be photographed for fear that she would be in danger for meeting with Israelis upon her to return to the West Bank.
"The way you lose members of your family, so do we," she said.
Surrounded by a circle of Israeli and Palestinian women, Samah affirmed that both sides were tired of the conflict.
"Enough of this conflict, she said. "We have to put an end to it. We want to live in peace in a normal way and, beyond all that, we want to live like human beings. It's the most important thing."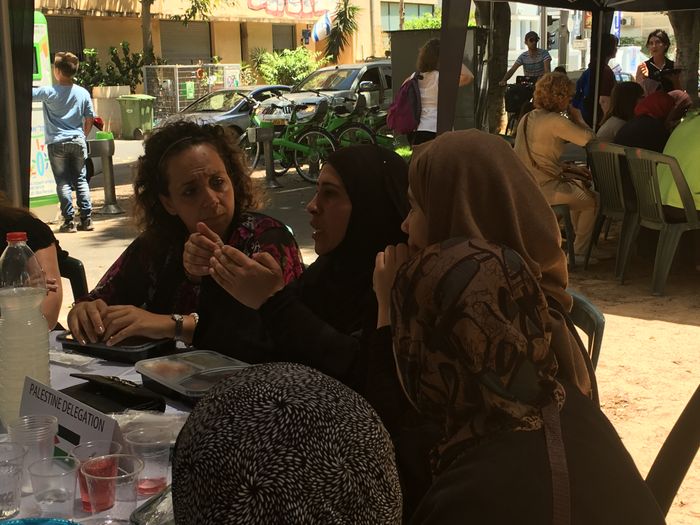 For Samah, it was her first time in Tel Aviv and in Israeli territory. She admitted that she was afraid to make the journey because she didn't know what it would be like. While several women in the delegation brought their daughters, Samah would not bring hers as she feared for their safety.
"I'm not afraid anymore," she said and explained that, ironically, she spends so much of her life surrounded by soldiers but, here, on the boulevard surrounded by a group of like-minded women, she felt more protected than she ever has.
"I know nothing will happen because all of you are around me," she said.
While the discussions began with topics of common ground like the will for peace and need for better education on both sides, harsh words and criticism were also exchanged between the women.
"Israel is democratic so if you want peace you can have it," one Palestinian woman, who asked to remain anonymous, said. "When Israel wants something it does it. What are you waiting for?"
She asked the Israeli women in the circle to utilize their democratic right to pressure the Israeli government.
"Our voices aren't heard but yours are," she said.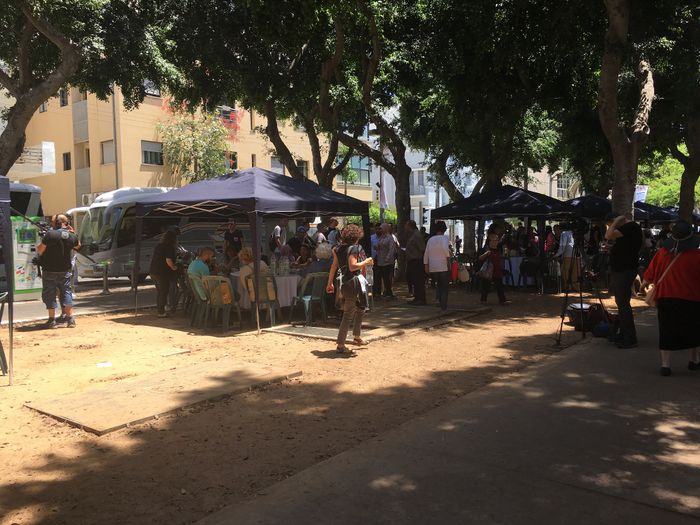 'Peace making, peace building and peace keeping'
Dr. Sapir Handelman, an Israeli academic and recipient of the Peter Becker Award in Peace & Conflict Research, organized the women's congress.
Handelman and his colleagues have successfully organized 33 Israeli-Palestinian public negotiating congresses in universities across the US and Canada, facilities in Israel and the West Bank and in public places in Jerusalem and Tel Aviv.
"We brought people from all walks of life into the conversation, even religious settlers," he said.
"We decided it needed to come from the bottom up," Handelman asserted, explaining that he realized that the only way to involve average citizens was to have open, public debates with members of the other side.
He affirmed that at every dialogue congress, the groups manage to reach some kind of concrete agreement which he sees as hopeful for the future. Often Handelman will give the agreements and consensuses reached during the previous congress to the facilitators so that they have a basis for further negotiations and can bring the conversation forward.
Handelman noted that, ordinarily, during the negotiations, right-wing people usually have an easier time reaching some kind of practical agreement which he believes is due to the fact that they tend to speak in more practical terms while left-leaning people tend to think more theoretically.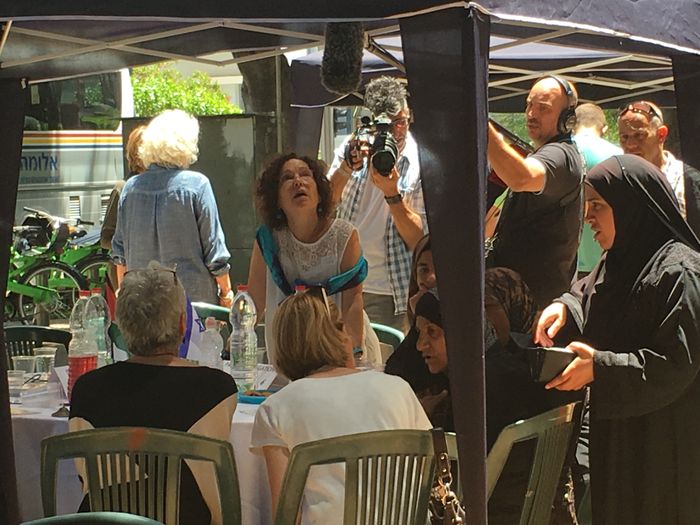 He also said that left-wing Israelis have a tendency to speak for their Palestinian counterparts because they feel they have an understanding of their plight but often Palestinian participants will react by saying "don't speak for me."
Handelman believes that women have a special role to play in finding a solution to the conflict and emphasized that the women's conference was an initiative that came from the Palestinian women and not the Israelis.
"We were organizing these congresses and then these women reached out to us and asked to do this so we organized it."
According to Handelman , congresses like these are integral to "peace making, peace building and peace keeping."
Yosefa, an Israeli participant in the discussions and a member of the activist group Women Wage Peace explained that women are accustomed to working together for a common goal because they can put their egos aside. She believes that peace and reconciliation can come from women on both sides.
"Men had 69 years to reach an agreement and they failed," she said. "It's our time."
Emily Rose is a journalist and web editor for i24NEWS English.