Hebron shooter asks to postpone start of prison sentence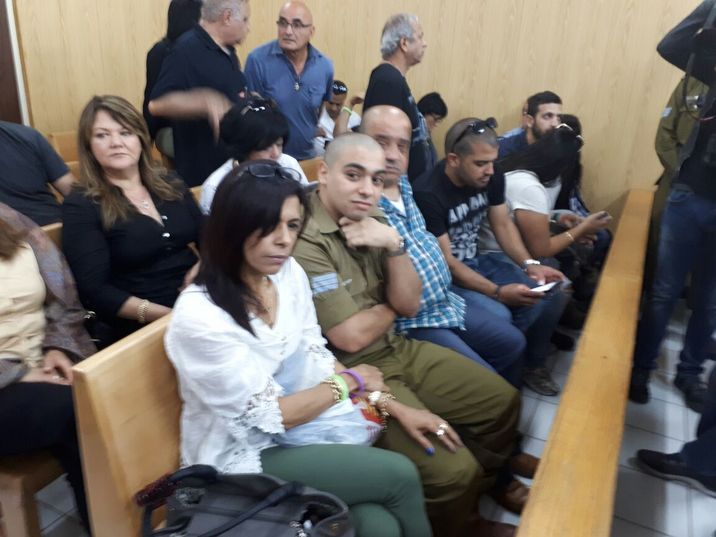 Elor Azaria appeals his 18-month prison sentence in military court alongside family. Tel Aviv, May 3, 2017
Shai Ben-Ari/i24NEWS
Following the verdict, IDF chief said he would 'seriously consider' a lesser sentence for Azaria if requested
Elor Azaria, the former Israel Defense Force (IDF) soldier recently convicted for the fatal shooting of an incapacitated Palestinian assailant in 2016 has filed a request to Israel's military court to postpone the start of his prison sentence slated for August 9, Israeli media reported on Sunday. 
Azaria was sentenced last week to serve 18 months in prison but is seeking leniency and waiting on the IDF's chief of staff Gadi Eisenkott to respond to his request. 
Following the verdict,  Eisenkott said he would "seriously consider" a lesser sentence for Azaria if a request was submitted
The former sergeant was convicted of manslaughter in February 2017 after he was caught on film  shooting Palestinian terrorist Abdel Fattah al-Sharif as he lay immobilized on the ground after carrying out a stabbing attack against Israeli soldiers in the flashpoint West Bank city of Hebron in March 2016. 
The soldier's conviction has deeply divided Israeli public opinion between those who believe he was wrongly tried and those who say the conviction was the right and proper consequence of his actions.
It also led to strong statements across the Israeli political spectrum, with some politicians, including Prime Minister Benjamin Netanyahu, calling for him to be pardoned, while others decried the fact that Azaria was prosecuted on a charge of manslaughter rather than murder.
Azaria was released from military prison to house arrest, as his period of mandatory army service came to an end and he awaited a decision from the military court of appeals.