Clashes erupt in Jerusalem between ultra-Orthodox and police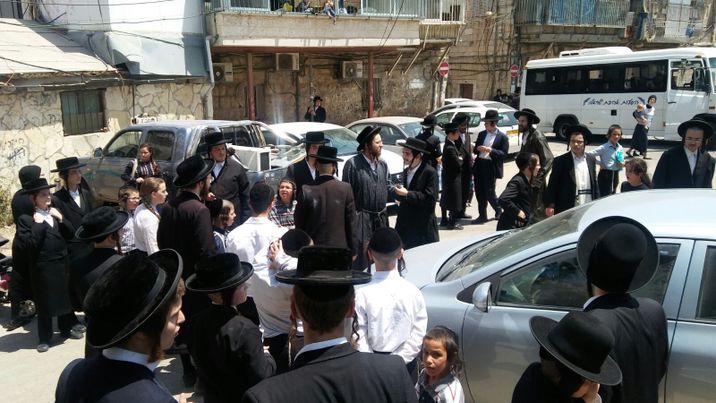 Clashes erupt between protesters and ultra-Orthodox residents of Jerusalem's Meah Shearim neighborhood on August 8, 2017
Stop Attacks on Soldiers organization
Eight-year-old wounded in Jerusalem as protesters hurl rocks at police
An eight-year-old girl was hot in the head by a rock after riots broke out in the ultra-Orthodox neighborhood of Mea Shearim in Jerusalem on Tuesday.
The clashes erupted after Israeli Defense Minister Avigdor Liberman visited the neighborhood in order to pay his respects to a mourning house of a local prominent rabbi, after which rioters began throwing rocks at police.
Six suspects were arrested following the disturbances, police spokesman Micky Rosenfeld said. 
Tension has risen between the ultra-Orthodox community in Jerusalem and Israeli security services in recent months.
In early June, twelve ultra-Orthodox men were arrested in Jerusalem after they attacked undercover police officers wearing Israeli army uniforms.
The operation came after a poster campaign in Jerusalem which called for the killing of Israeli soldiers. The posters, which asked religious recruits to "kill every female soldier that you see" and "kill every commander who keeps you forcefully" appeared to quote religious texts to back the demand that ultra-Orthodox soldiers who are forcibly drafted by the Israel Defense Forces (IDF) use their military-issued gun to kill fellow soldiers. The posters also call for draftees to commit suicide rather than serve in the army.
Military service is compulsory for most Israelis, but the ultra-orthodox Jewish community has been exempt from service since the founding of the state, however this has long been a controversial issue in the country.
In 2014, the Israeli parliament voted through a law to compel ultra-Orthodox Jews to either serve in the military or perform national civilian service. Members of the ultra-Orthodox community, who represent about 10 percent of the Israeli population and live in compliance with a strict interpretation of Jewish laws.
The law also includes a clause stipulating sanctions against draft dodgers -- including imprisonment -- in a move which enraged the ultra-Orthodox leadership who said it would be tantamount to jailing people for practicing their faith.
A 2015 amendment extended the transition period before the law came into effect from 2017 to 2020 and added a second stage of transition to last until 2023.