Israeli charged with death threats, vandalism against Reform Jews, secularists
A knife and letter on the buzzer of Professor Yaakov Malkin's home in Jerusalem, January 2016.
Courtesy
Reform Jews have been battling the influential ultra-Orthodox parties in Israel's governing coalition
An Israeli man has been charged over a string of death threats and vandalism targeting a Reform congregation, atheists and Jewish humanists that included leaving large knives with red inscriptions outside the homes and offices of his targets.
In an indictment filed by state prosecutors in the Jerusalem District Court on Monday, a 39 year old resident of the predominately ultra-Orthodox city of Bnei Brak was charged with vandalism, extortion and preparing an offense with hazardous substances, stemming from alleged offences carried out since 2014.
Kehilat Raanan, a Reform congregation in the affluent city of Raanana in central Israel, was allegedly a repeat victim of the suspect, who was arrested on August 22 on suspicion of planning to commit an arson attack against controversial NGO Breaking the Silence.
In November 2016 -- in an incident that Prime Minister Benjamin Netanyahu "strongly condemned" -- the Bnei Brak resident visited the group's premises and left a large knife surrounded by threatening letters addressed to prominent liberal Jews such as leader of Women of the Wall Anat Hoffman, President of the US Union for Reform Judaism Rabbi Rick Jacobs and the leader of the reform movement in Israel, Gilad Kariv.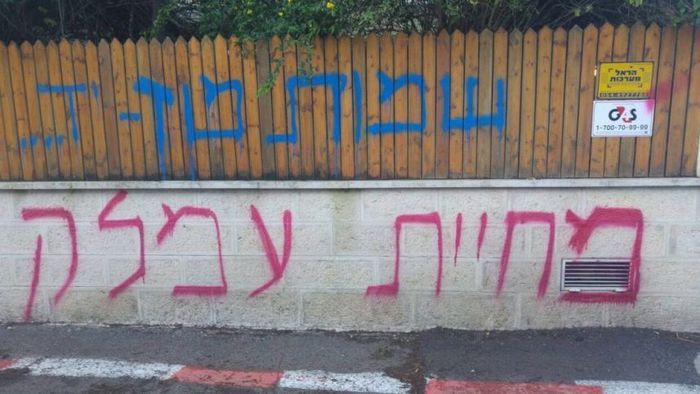 The letters warned their recipients to halt their work and flee Israel, or face "a terribly bad" situation, and also threatened that they "will be fought with sword and blood, and not with words and speeches ..."
Reform Jews form a hefty chunk of American Jewry, but their flock are outnumbered by national-religious and ultra-Orthodox Jews in Israel, who abhor their liberal religious interpretations.
The Reform community has been battling the influential ultra-Orthodox parties in Israel's governing coalition over egalitarian prayer space at Jerusalem's Western Wall and on the issue of conversions, with the government proposing legislation that would strictly limit recognition of conversions to only those performed by Israel's conservative Rabbinate.
During the same month as the attack on the Raanana synagogue, scuffles broke out between liberal Jews and ultra-Orthodox worshippers at the Western Wall, and Israel's Interior Minister branded Reform Judaism an "imitation".
Atheists, humanists targeted too
Members of the Israeli Atheists Association were also frequently targeted. According to the indictment, the accused hunted down the addresses of the group's leaders and then scouted out their homes.
After allegedly delivering extortion letters and scrawling "No atheists in the land of Jews!" on his Tel Aviv apartment building, one of the group's leaders was so fearful he halted his public activism and even moved house, the prosecutors allege.
One letter also warned atheist Elad Laor that if he did not remove his website 'ScienceReasonIsrael' that he would find himself on a path "of severe suffering".
In January 2016 the Jerusalem home of famed Jewish ethicist and humanist Professor Yaakov Malkin, who directs Tmura, the International Institute for Humanistic Secular Judaism, was also targeted, along with his neighbors who had letters dropped in their mailbox claiming that the now-91 year old was a murderer.
A knife and letter of blackmail was allegedly stuck on top of Malkin's buzzer, and the accused even enclosed pictures of his past threats against Reform Jews and atheists, apparently as evidence of his seriousness.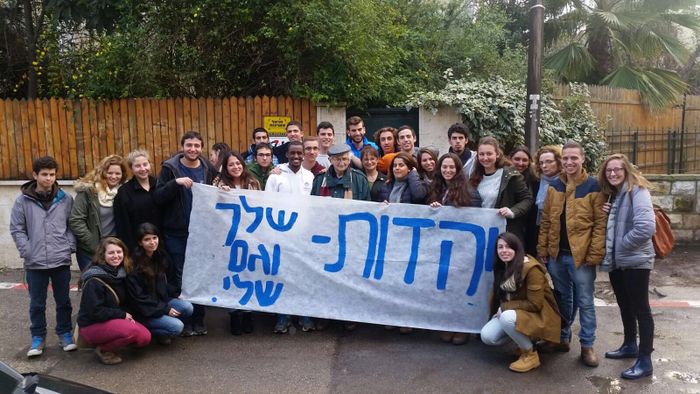 Malkin's daughter, Rabbi Sivan Malkin Maas, told i24NEWS that her elderly father was largely unperturbed when she read him the letter after discovering it that morning.
"I read it to him and at the end I asked 'so how do you feel about this?'" she said. "And he asked 'what do you mean? Are you asking me if I am frightened? … You know I have been here since 1934, which means living in Israel, going through the War of Independence and all the other wars - and this is what frightens me?'
Malkin Maas added that when news of the threats were published in the media, it elicited an outpouring of support for her father from across Israeli society.
"It is unbelievable the support we received from the people in the neighborhood that we have never met, from organizations, really from all over Israel, from members of Knesset who came to support and to visit - both [those] who came to support the cause itself and those who came to support freedom of speech," she said.
The unnamed 39 year old was arrested on August 22 in the midst of what prosecutors allege were preparations to set fire to the office of Breaking the Silence, a controversial group of ex-soldiers in the Israeli army who publicize testimonials about their service in the Palestinian Territories.
The indictment alleges that he researched the personal information about leaders of the NGO and equipped himself with gasoline in order to "ignite part of the organization's building, in order to terrorize them and make them stop their activity".
Prosecutors have applied to remand the man in custody until trial.
You need to be logged in in order to post comments. Sign up or log in
September 6, 2017 3:26 AM