Archaeologists unearth section of Western Wall, Roman theater after 1,700 years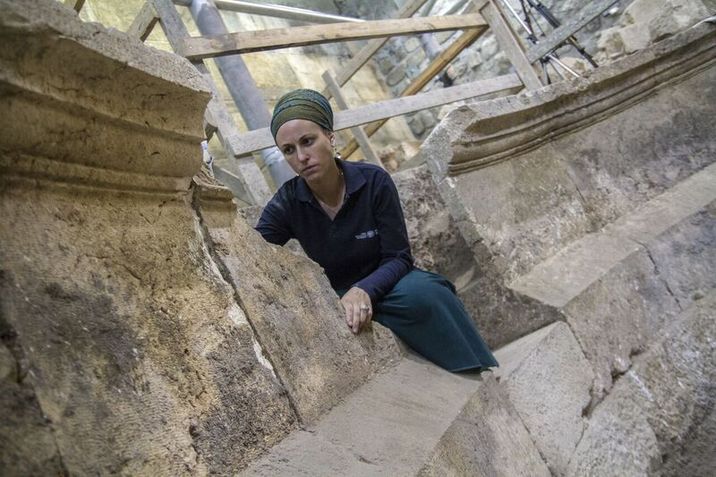 Israel Antiquities Authority archaeologist Tehillah Lieberman at the theater structure
Yaniv Berman, courtesy of the Israel Antiquities Authority
The Israel Antiquities Authority on Monday unveiled previously undiscovered sections of the Western Wall, as well as a theater-like structure which is thought to be from the Roman period.
Archaeologists frequently refer to historical sources to try to pinpoint where to carry out digs, and written sources from the Second Temple period frequently mentioned entertainment venues such as theaters, but until now they had not been uncovered.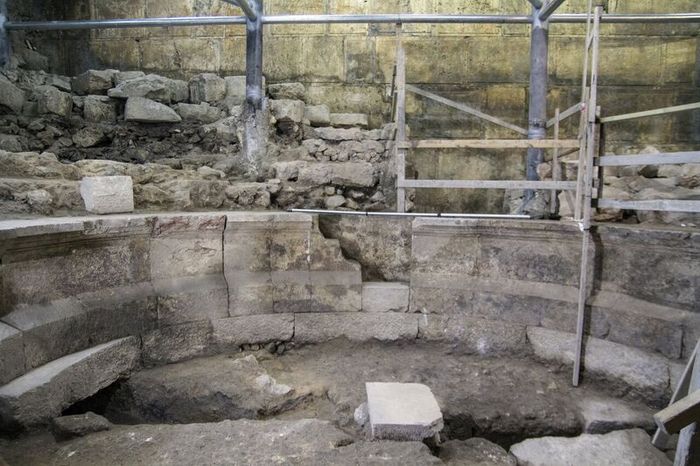 Site excavators believe that the theater in Jerusalem was never actually used, pointing to the incomplete staircase as evidence. One theory as to why it would have not been used is that perhaps construction occurred around the time of the Bar Kochba revolt, the Jewish rebellion against the Romans that occurred 132–136 CE.
This particular excavation began as part of attempts to date Wilson's Arch, the giant structure which was once part of a bridge for visitors to enter the Temple Mount compound, as well as holding an aquaduct.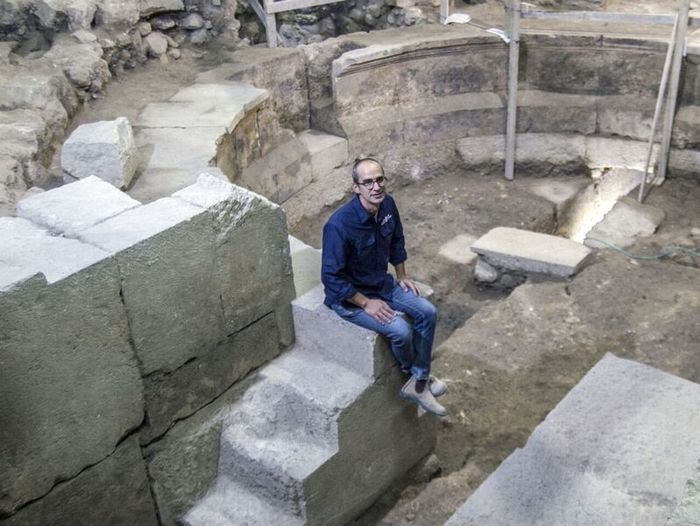 Excavators Dr. Joe Uziel, Tehillah Lieberman and Dr. Avi Solomon issued a statement on the finds, explaining their excitement at the unexpected discovery. "When we started excavating, our goal was to date Wilson's Arch. We did not imagine that a window would open for us onto the mystery of Jerusalem's lost theater."
They went on to note that the theater was relatively small compared to other Roman theaters in Israel, such as the ones located in Caesarea, Beit She'an and Beit Guvrin, saying that the fact that it was also within a covered space led them to believe it was either an odeon used for acoustic performances, or could have been a venue for city councilors to meet.
Ahead of the announcement, Rabbi Shmuel Rabinovitch, rabbi of the Western Wall and the holy places said: "Time after time the amazing archaeological findings allow our generation to actually touch the ancient history of our people and Jewish heritage and its deep connection to Jerusalem. Each finding thrills me to new and powerful heights. We have a great deal of archaeological work ahead and I am certain that the deeper we dig, the earlier the periods we will reach, further anchoring the profound connection of the Jewish people to the Land of Israel and to Jerusalem."
You need to be logged in in order to post comments. Sign up or log in
what do members of UNESCO say? The AP has even not one monument from the history. The only only only one that argue is the Muscat near western wall built in place of the Jewish temple. The AP is the first organization in the world that has crate the FAKE NEWS!