A walk through south Tel Aviv to discover the Afro-Israeli rhythm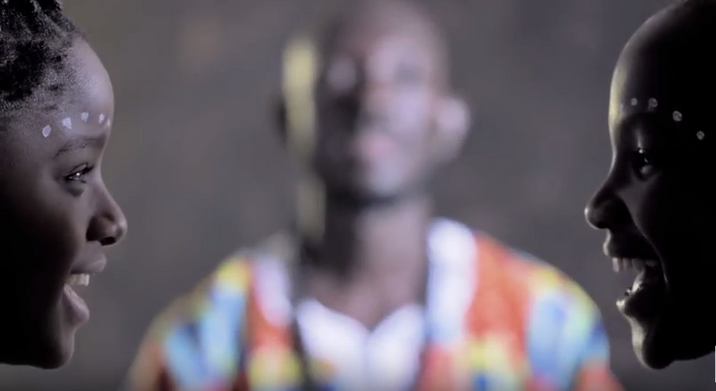 Na African Style - Groove Ambassadors (Official Music Video)
Groove Ambassadors
South Tel Aviv's Florentine neighborhood is a culturally rich place where "everything happens"
Modern Israeli music is influenced by a myriad of cultural sounds, unveiling the richness of distant horizons. A walk through south Tel Aviv is enough to witness Africa's cultural cosmopolitan flourishing in Israel. Here, a community of artists exists with diverse origins for whom music conveys a message of respect, love and humanism.
Groove Ambassadors, an Israeli group founded by Ivorian drummer Elisee Akowendo who comes from gospel musical tradition, brings together musicians from around the world. They sing in more than 10 languages, including African dialects such as Swahili from Kenya, Lingala from Congo, Baoulé from Ivory Coast, but also in French, English, and Hebrew.
A more personal endeavor of Akowendo's is his "I Dey Shina" project in collaboration with Israel's Ape records, through which he hopes to share his Baoulé culture learnt in Ivorian villages with "people who were more traditional and authentic".
"I am Ivorian first. The country where I come from, even if I live in Israel for eleven years, is Ivory Coast. The traditional music of Africa in general is rich and [Baoulé] is a language that is not common," he says, explaining his desire to share it with the world.
Proud of his origins, Elisee is nonetheless enamored with Israel, which he says has offered him many opportunities as a professional musician while also giving him the feeling of "being really at home". He says that he has been seduced by this "developed country with more or less an African mentality, energy and heat".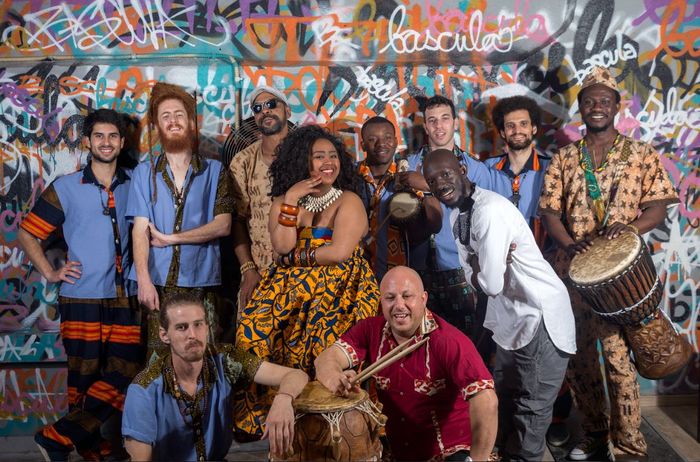 "It's when you leave, that you realize that what you have is something special that everyone does not have and that you can share. And it goes both ways, I did not know not before the Mizrahi music, it is here that I learned to listen to it and there are many similarities with certain African rhythms," he says.
South Tel Aviv's Florentine neighborhood in particular, Akowendo says, is a culturally rich place where "everything happens" and where he has met people of diverse origins and where most of his African friends live.
"At the church there are Kenyans who teach me their rhythms and to sing in their language, Nigerians too, Ghanaians ... I have Sudanese friends now ... I never thought I would have friends who come from all over the world in this very small place," tells this Christian man married to an Ethiopian Jew.
Asked where Israelis' fascination with African music comes from, he says, "it's not complicated, it's complex, and it's the complexity that makes people interested".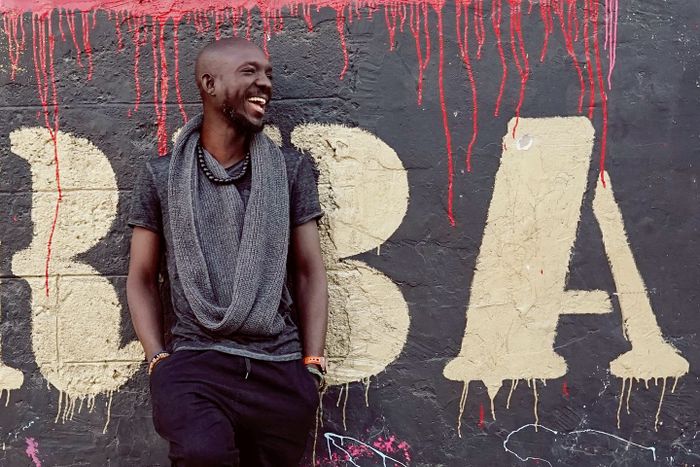 'Israel the third world'
Artist and singer Gilad Kahana, lauded by his peers as the Israeli "Miles Davis of lyrics", fuses musical influences to depict the experience of his urban wanderings in the streets of southern Tel Aviv.
Kahana says Africa has undeniably influenced Western music and rhythms, pointing to the flourishing of Jazz and Blues in the African-American communities of the United States.
"It is in the DNA of the western music anyway. Most of the people don't know about it but it is there all the time", he explains.
It is an influence that shows in filigree in his song 'Africa Sheli' (my Africa), whose musical composition integrates sounds of Gnibri (a mandolin of North Africa) and Guembri (also played in Guinea and Mali).
"People say that you cannot let third world refugees coming because the country cannot really help them and it makes problems. But when I was walking in the south of the city I was feeling that we ourselves Israel are third world", he says about 'Africa Sheli'.
"I felt the same feeling like if I was the refugee myself. And Africa sheli is trying to say that this country is itself third world and we cannot judge them", he adds.
For several years now, the Israeli government has sought to connect societal woes such as prostitution, poverty, and drug abuse in south Tel Aviv with the influx of African refugees to the area. In a tour of the area in August, Prime Minister Benjamin Netanyahu said he would "return the city to Israeli residents."
In his music, Kahana instead points to government corruption as being to blame for reducing Tel Aviv to the "third world". "Corruption is everywhere" he says, an observation the Israeli public at large has denounced by pouring into streets by the tens of thousands for massive weekly protests.
"The problems in south Tel-Aviv are made by the government by putting them there and by letting them get there. I think they are trying to create a scapegoat and they are creating a problem and then saying: look there is a problem. And it is very typical for this government to find someone else to blame for the problems", Kahana says.
According to official figures at the end of June, 38,043 African migrants, including 27,494 Eritreans and 7,869 Sudanese, were illegally in Israel. In response, the government recently unanimously approved the closure of the Holot detention center, giving migrants three months to leave the country or face deportation to Rwanda or Uganda.
"We have to stay morally inherited to our history and even if there is a problem you have to find a humanitarian way to take care of them. I think we should be very lenient to refugees and we should be very aware, not to turn into people who are forgetting where they came from", Kahana insists.
'Connection comes through music'
It is a sentiment echoed by Hewan Meshesha, the singer of Ground Heights whose music incorporates traditional Ethiopian sounds with the cultural heritage of the group's six other members who are of Yemeni, Polish, Romanian, Russian, Moroccan and Syrian descent.
"We are all immigrants, especially us as Jewish people in Israel. Israel is here only for 70 years. For me being a first generation of Jewish immigrants from Ethiopia I feel I am a reminder to everybody to remember the story, to remember what we did in order to get there and why this country is so wonderful," Meshesha says.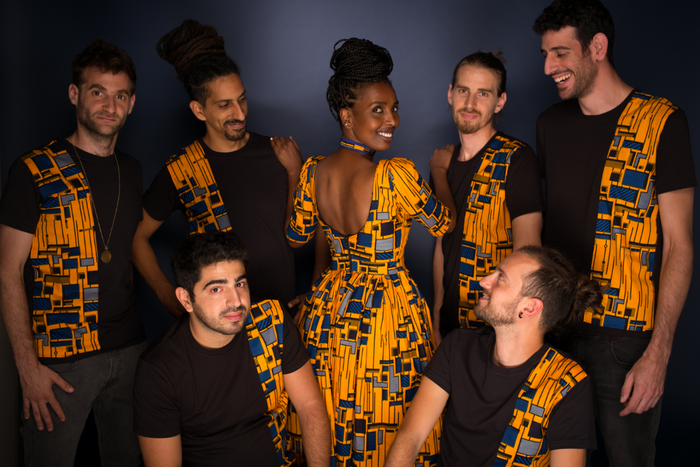 The story of Meshesha's grandmother, who arrived in Israel in old age and insisted that her grandchildren speak Amharic, has instilled a "very strong" drive in her to sing in the language of her ancestral origins.
"For me it is like the greatest gift she could give me because knowing another language kept me connected to my history and to my heritage. Singing or writing in in Amharic came naturally", Meshesha says.
The essence of Ground Heights' music is, however, conceptualized through the term "IsraEthiopian music" -- an encounter between Africa and the West. It is a fusion of genres that includes Ethiopian music but also styles such as rock, reggae, hip hop, and R&B.
"Our guitarist has a western guitar and what he does is to listen to the Ethiopian scale and try to imitate it on his own guitar and that when you create a unique sound that is Ethiopian music but played on western instruments, this is to me what connect everything", Meshesha explains, talking about Yotam Cohen. 
"I feel that we have been so drawn apart from each other for so long that we have to make the connection and to us the connection comes through music", she says.
If music makes it possible to express the inexpressible language of feelings, then the heart is undeniably its first sound box. In this regard, music more than any other art form makes us vibrate in unison. Music is "life", Elisee says, and music is what, as Gilad Kahana writes, helps us "to find each other".
Nathalie Boehler is a journalist and web editor for i24NEWS French.