Israeli and British army veterans engage in friendly competition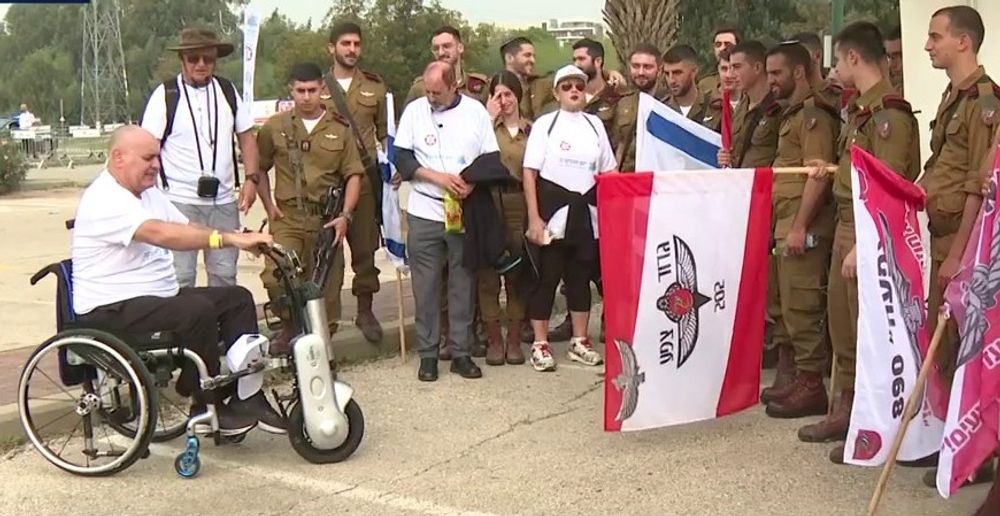 The Veteran Games this year feature cross fit, swimming, and shooting
It's an intense struggle. Robust even. Nothing indicates the competitors have anything slowing them down. It's the Veteran Games, a yearly event bringing together injured Israeli and British army veterans to compete against each other in a sports tournament.
"Despite everything they have been through, and despite not having a limb, or not seeing, or being paralyzed, it doesn't take anything from their fighting spirit, which means they are not really disabled," says Ido, who manages the Cross Fit competition.
The Games this year feature cross fit, swimming, and shooting. It's a strong competition but for these heroes who came back from the battlefield with physical or mental scars, that they will carry for the rest of their lives, the real victory is not the gold medal.
"Competing is fantastic, it's great for your mental health, especially for recovery, for a healthy physical well-being," notes David, an injured British war veteran.
The five-day event is taking place at Beit Halochem Tel-Aviv, a complex catering to IDF disabled veterans. The British delegation, made up of 63 war veterans was organized by the UK branch of Beit Halochem, which now helps not only injured IDF veterans, but British ones as well.
The visiting veterans are not here on their own. The families are here as well, cheering, supporting, and enjoying family time which they don't always have the opportunity for back home.
"It's great to have our families on board and to be competitive with the Israeli veterans and be one big family," says Craig, a wounded British war veteran, "without our families we would not be half the men and women we are."
The morning events at the games are dedicated to competing, the afternoons are for travelling around Israel. That in itself is also a victory.
"We are going to Jerusalem, and I know there are steps in some places, and these are things I wouldn't be able to do in my wheelchair, and these experiences I will have with my kids that are life changing for me," Injured British war veteran Philip Eaglesham said when i24NEWS visited the games.
Philip from the British team, and Chanoch from the Israeli one, know all about struggling and winning. They were both injured and used sports for recovery. Both made it all the way to the Paralympics.
"We are brothers in arms, brothers in fights that we have dealt with all lives," Eaglesham notes. Chanoch, "has obviously done a lot better, won a lot more medals," he admits.
"It's because I'm older," he concedes.
"The word disabled doesn't belong here," Chanoch observes, "I tell people to forget the disability. This is something you notice in the first second or first minute, but then you see the ability of these people. They can do whatever they want."
The games will end on Friday. The experiences gained will last a lifetime.
This article received 0 comments