Photographer captures daily life in Mea Shearim neighborhood 'frozen in time'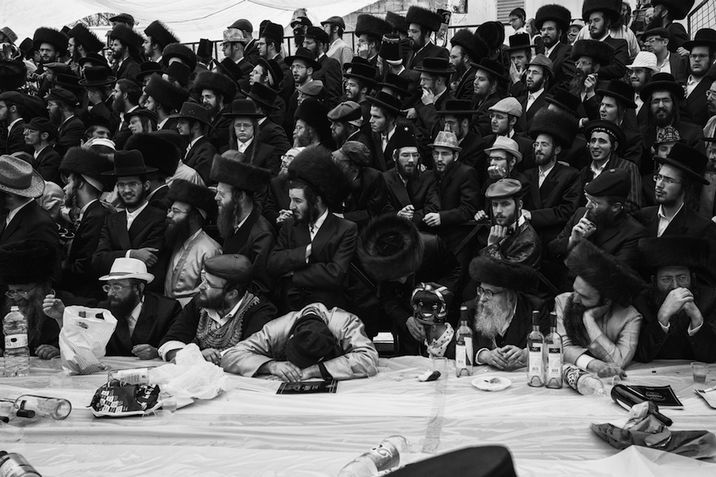 Méa Shéarim pendant la fête de Pourim
Ofir Barak
Faces obscured by beards, curls, and black hats wander the streets of Jerusalem's Mea Shearim neighborhood, forming a group of seemingly identical individuals cut off from modern society. It's a typical, if not negative, view of the ultra-Orthodox Jewish community -- especially since large, sometimes violent rallies against Israel's compulsory military service.
However, from the inside life in Mea Shearim reveals a completely different reality of men devoted to the study of the Torah, women in charge of their families and children, who, as anywhere else, aspire to joy and freedom.
Photographer Ofir Barak has sought to capture this world frozen in time in order to better understand it, while deliberately ignoring the influence of popular media and politics. His project in the reclusive neighborhood has lasted more than three and a half years, during which time he has taken nearly 15,000 shots. In 2016, it was awarded the prestigious Magnum Photo agency award for "street photography".
"In order to get good pictures I had to go there again and again and again because at first I was intimidated by them. When I first lift my camera on the few times I went there, people over there could kill you with the look (…) but then you start to build your confidence and you start adapting to the place," Barak tells i24NEWS of his experience photographing in the ultra-Orthodox community.
At the beginning of his project, Barak began by simply walking on a weekly basis through the neighborhood. Then he began to eat regularly there, to go "just to practice, to get used to the place, to know the small entrances and the roads".
Eventually he even moved into an apartment closer to the area. "If something happens I can go in a minute," he says, adding that while visiting Mea Shearim, day or night, he wore only black, blue, or gray and also grew a beard.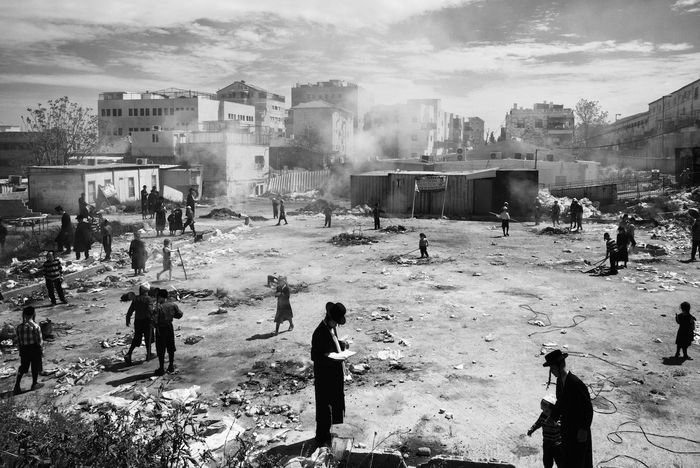 Founded in 1874, Mea Shearim was one of the first five Jewish neighborhoods built outside the walls of Jerusalem's Old City. Its name comes from a verse of the Torah and refers to the Parasha weekly read in the synagogue when the district was created. "Then Isaac sowed in that land, and received in the same year an hundred times (Mea Shearim): and the LORD blessed him" (Genesis 26:12)
"I would say that the place also adapted to me because it is not very big so people would start recognize me especially with my camera. Not on holidays, because on holidays people come there to take photographs of the costumes if it is Purim, they come to photograph ceremonies for Pesach... but I come on a normal day," Barak says.
The vast majority of the inhabitants of Mea Shearim are Ashkenazi (Jews of European descent) who speak Yiddish in their daily lives. The only use of Hebrew is during prayers and religious study, as Hebrew is for them a sacred language to be used only for religious purposes.
While some families living in Mea Shearim are well off, others live in need and are helped by local charities. The very first photograph of the neighborhood taken by Barak, he recalls, was of a beggar holding his hand out for charity.
The ultra-Orthodox community represents about 15% of Israel's families living in poverty, a rate that is three times above their share of families in the general population. Unemployment within the community remains high, due to the fact that the education and skills of the community are less compatible with the modern labor market.
"It was extremely hard during the editing of the book because my first draft was really sad. I saw a lot of sadness, lot of women depression and male oppression and children who don't know anything about technology. Not very happy people... and that was really sad that it was all I saw in the place," Barak says.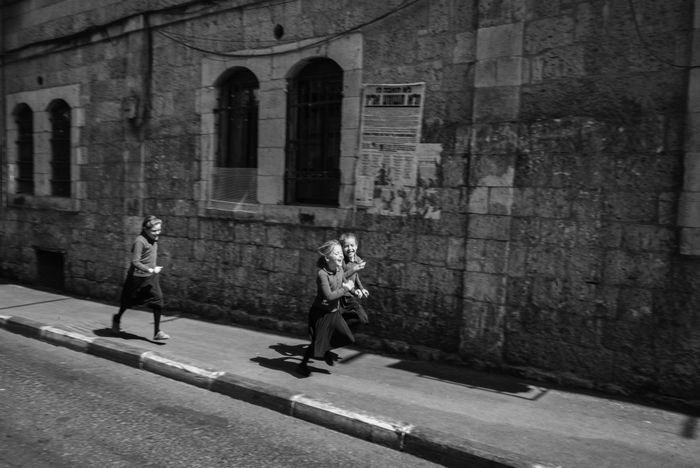 "But sadness is not all around you. You have also positive influences so I scrapped the first draft and then I went there and I decided that I was going to take good pictures now with happiness, with joy," he continues, talking about his book "Mea Shearim: The streets" personally greeted by the President of Israel Reuven Rivlin, who is himself from an Orthodox family.
In addition, he says that even if these people are "Hassidic" (from the religious movement founded in the 18th century in Eastern Europe) and inflexible regarding the respect of religious law, they also expressed appreciation of his work.
"Some people replied and also helped me to get good photographs from good situations because they wanted to be seen also in a positive way," says Barak.
Indeed, far from the digital revolution of mobile phones, Instagram and Facebook, the community does not have the opportunity to show its daily life or its values, and de facto marginalizes itself.
Thus, Mea Shearim remains faithful to its old customs and preserves its isolation in the heart of Jerusalem, but also generates incomprehension, even to a certain extent repulsion, which is often unfounded.
"The positive thing is the will of these people - a little bit like in every Orthodox society but here it is more specific and more decided - to stay in the old Jewish world of the ghetto 200 or 300 years ago," explains Rabbi Henri Kahn, editor-in-chief of Kountrass magazine in Mea Shearim.
"That's what they do sincerely to the end - in a very extreme way - but we need that too, people who want to maintain the tradition in the most authentic, the most serious and the most sincere way", he insists. He adds that "somehow if we take it the right way, we can only appreciate this will".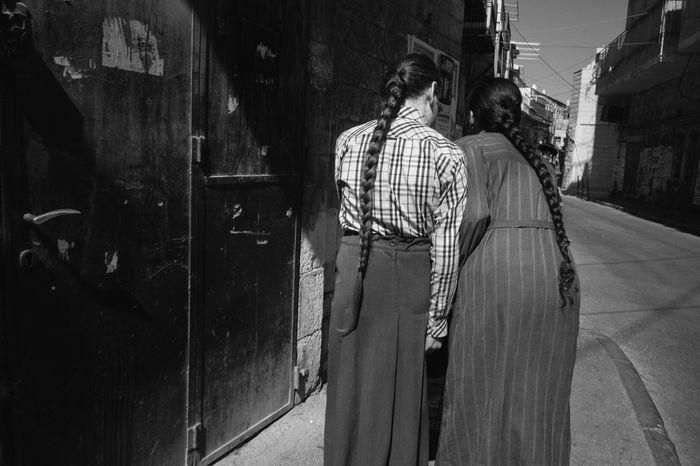 However he stresses that "it is true that in this will, there are things that will hinder," referring in particular to rules of conduct in public spaces or dress codes.
For example, men and boys must wear frock coats and black hats as well as grow long beards that cover their faces as well as traditional hair curls known as "payot". Women and girls dress in long dresses, and their shoulders must always be covered. Married women wear various headgear, from hats or scarves to wigs.
Indeed, negative images of the Orthodox community have been perpetuated in recent years, especially since their high visibility in the media over incidents involving the separation of men and women in public buses, protests against openings of cinemas and businesses during Shabbat, or protests against Israel's compulsory military service.
Ofir Barak also lived this experience from the inside: "Some people did not react very kindly. They tried to break the camera and even kill me," he claims.
"I was pushed, there were a lot of gathering around me - especially during the demonstrations against the army. And you know when a hundred people gather around you and try to shout at you, it is really hard," he says.
"It's true that it can be shocking, irritating, surprising but I think that it is necessary to understand their will. Mea Shearim is not an enclosure with monkeys. We must try to understand things from their point of view," Rabbi Kahn insists. Furthermore he reiterates that their message is simply "that of a long tradition they want to keep".
"If the establishment expects and requires from the Orthodox world to come to the army, there are things in the daily life of an Orthodox man that must be respected and be granted," he says specifically about military service.
According to him, besides these disagreements with the state "there is no more welcoming and easy-going people than the Orthodox world." "When we know them on a daily basis, we see that people are balanced, are happy, feel good about themselves," he says.
It is a sentiment shared by Barak: "I learned about the community that not everything seems the way it seems on television or on the newspapers. There are people behind the idea and these people have lives."
"Maybe their lives are different than yours but in order to make a good observation you have to free yourself from everything that you knew and get the picture that will tell a whole story," he says.
Away from those caught in the endless race against time, Mea Shearim is this "city in the city", frozen in its own temporality.
A neighborhood in which the community aspires to things "more related to tradition", where self-development begins with a life dedicated to study, family and the joy of having children like in the old Jewish world that once existed in Europe's shtetls.
"If he is honest, even someone who lives in Tel Aviv and behaves like someone who lives in Tel Aviv also feels it… he understands that there is something fundamental about this Jewish thing. Something that we must respect (because) it is the soul of the Jewish people that is in there," Kahn concludes.
Nathalie Boehler is a journalist and web editor for i24NEWS in French.