Israel transport ministry announces new license for electric bicycle drivers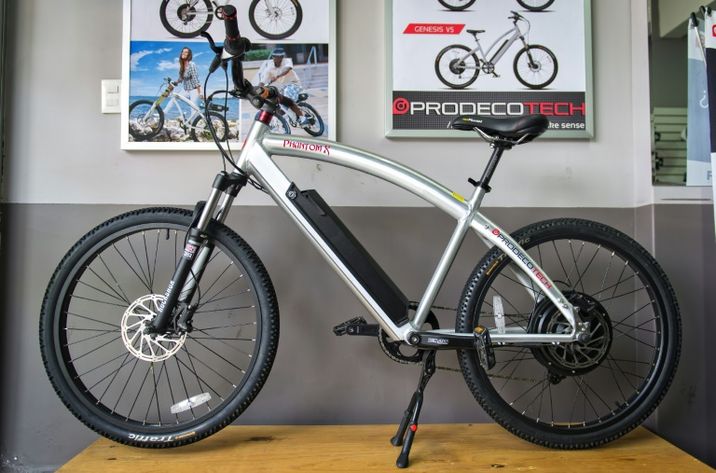 Electric bicycles, such as the "PhantomX" pictured here, can reach 32km per hour
Omar Torres (AFP/File)
Ambitious step in gov't plan to tackle increasing fatalities in e-bike users will require better enforcement
Israel's road and transportation ministry announced on Sunday that electric cyclists will now be required to take a theory exam before getting on the road.
The sight of electric bicycles has become ubiquitous in Israel. They ride fast and freely, subject with one law that only requires users to be 16 or above, and for the bike to have a maximum speed limit of 25 km/hour.
The law is hardly enforced, however, and walking down any of Israel's streets, you might witness souped-up bikes going up to 80 km/hour, and underage riders, perhaps using their phones, often jumping in front of unsuspecting vehicles.
Users generally blame poor public transport for the popularity of the vehicle, which is widely used to ride against traffic, on the sidewalk or up one-way roads, beating the country's legendary traffic jams. There are currently around 210,000 e-bikes on the country's roads.
More than attracting the ire of fellow motorists, electric bicycle users are at an increasing safety risk. 17 e-bikers died so far this year, which is more than double the number of fatalities from last year, according to Kobi Peleg, director of research for Israel's National Center for Trauma and Emergency Medicine.
This has pushed the government to approve stricter rules for electric bicycle riders, including the imposition of large fines. Users who ride without a helmet could be fined with NIS 1,000 (about $250), for example.
E-bike riders aged 15 and over who do not yet have a driving license will now have to obtain one by passing a theory test in one of dozens of branches throughout the country. The test, which will cost about NIS 60, will consist of 30 questions, mostly focusing on road safety for electric bikes and pedestrian rights.
Those who pass will be granted a new type of license, categorized as A3. It will become compulsory from January 1st.