'This is our blood!': Israeli women unite against femicide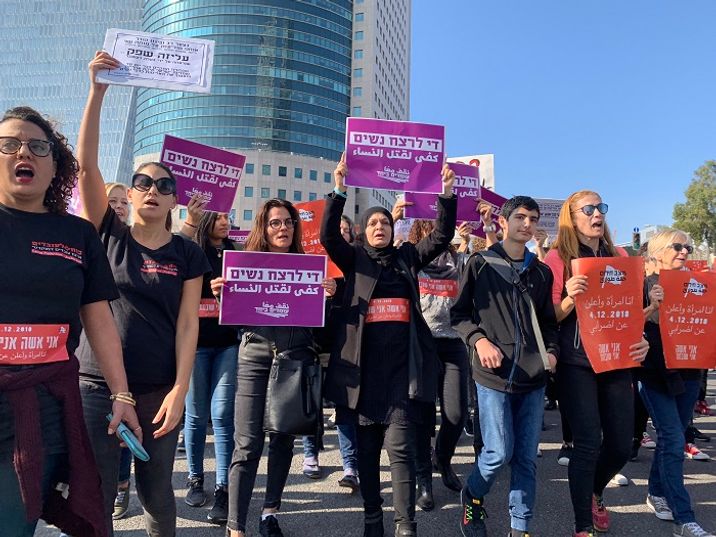 Women march outside Israeli government buildings calling for an end to violence against women
Ellie Stern/ i24NEWS
"We were silent for a few minutes now, but we will no longer be silent," Na'ama Goldin, 62, told i24NEWS
The cries of women reverberated across Israel on Tuesday morning as thousands gathered in the country's largest cities to protest violence against women and femicide.
Israelis driving into Tel Aviv hoping to exit the Ayalon highway via Azrieli junction were met with police roadblocks and thousands of protesters purposefully blocking traffic repeatedly shouting "Shame!" as vehicles and motorbikes attempted to pass.
"Netanyahu, wake up, women's blood will not be spilled in vain," the protesters shouted in unison as they marched from the front of the Kirya Tower to the nearby highway onramp.
Some women were crying, holding each other as they walked. Dozens of kids, home from school for the Hannukah holiday, sat atop their parents shoulders. One five-year old girl, holding her father's hand while her mother held a megaphone several feet away, told i24NEWS she wants "a safe life." Her father, who preferred they both remain anonymous, said their family has been active in protests against domestic violence since his wife's sister was killed by her husband over ten years ago.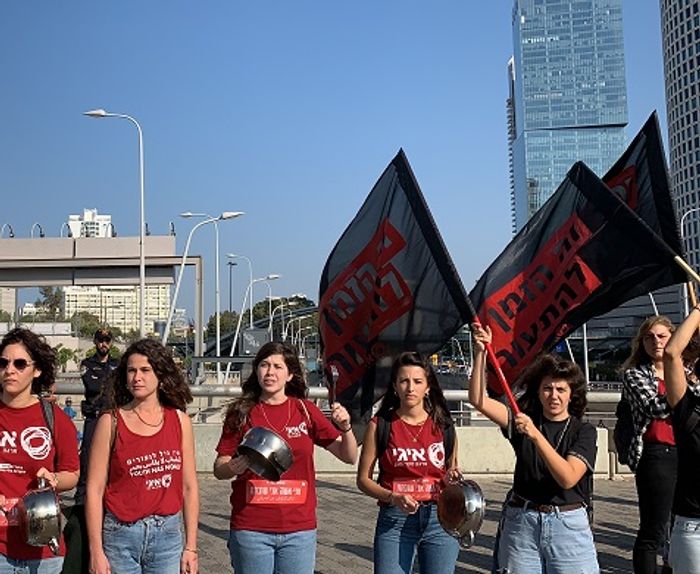 50 organizations who connected through social media came together to plan chants, the protest route, and a number of tactics used to capture public attention throughout the day.
Just after 10:00AM, organizers directed protesters to form a massive circle stretching across Azrieli junction. "Now, we will have a moment of silence for the 24 women murdered this year. Their blood is our blood, and we need to remember them each by name."
Several minutes of silence ensued as protesters looked across the circle at one another. In true Israeli fashion, it seemed the group's organizers scrapped the plan to stand for 24 minutes of silence, one minute for each other victims, as they picked up on the crowd's anticipation.
"We were silent for a few minutes now, but we will no longer be silent," Na'ama Goldin, aged 62, told i24NEWS before turning to her fellow protesters to begin a chant of "women want security in the streets!"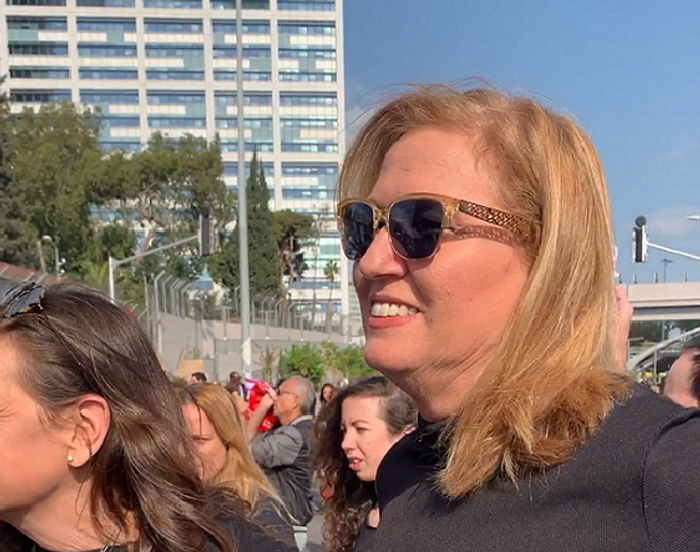 Protesters at Azrieli junction were soon joined by Tzipi Livni, the Knesset's opposition leader.
"Isn't this wonderful?" she asked, pointing to the crowds.
"I want the women of Israel to know that the government is listening even if the coalition is not," Livni told i24NEWS before walking further into the crowd.
The incumbent opposition leader then approached an older woman and asked her if she came to protest.
"She's from Iran," Livni said, after the woman told her she moved to Israel from Tehran 30 years ago.
"You are from Tehran and now you came here to fight for women?" she asks. "Good for you, really good for you," she says before giving the woman a full hug.
Member of Knesset Aida Touma-Suleiman of the Arab Joint List party, who is the fourth Arab woman to become a member of Israel's parliament, also came out to protest.
"Why am I here?!" she responded with indignation to the question. "This is not a question. Today, the place of each woman is to be here."
"Every woman should be in any demonstration, in any protest, against the murder of women and violence against women," Touma-Suleiman said.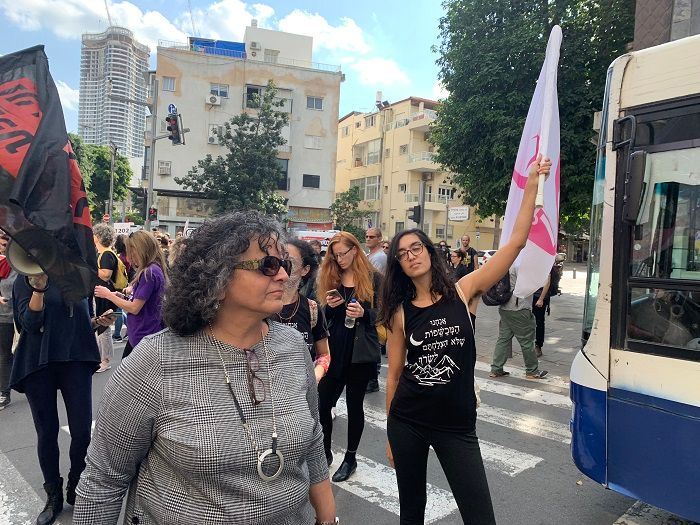 "I'm here because I'm a woman and a politician who cares about women because I'm a feminist," she adds. "This government needs to understand that we are taking responsibility for our lives because nobody else is doing it, because they have betrayed women."
Most chants blaring through megaphones were in Hebrew as protesters walked into oncoming traffic on Eliezer Kaplan street approaching Habima Square.
However, at several points throughout the demonstrations, Arabic-speakers, including Touma-Suleiman, attempted to lead the crowd in short chants.
With most protesters wearing red, purple, or black, a group of individuals in white medical coats stood out from the crowd.
"This violence [against women] is directly connected to the universal right to health," Ran Goldstein, the executive director of Physicians for Human Rights, told i24NEWS.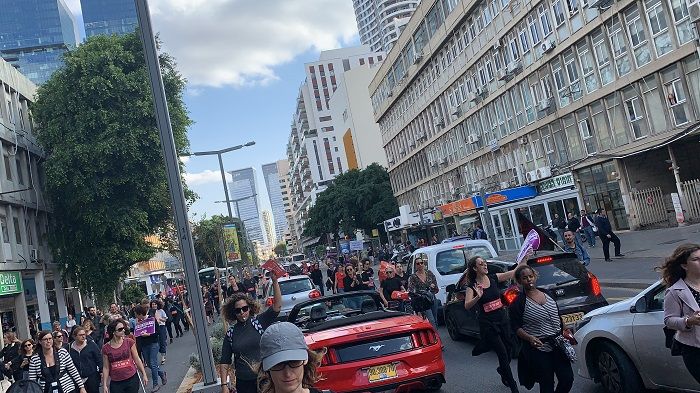 "Many of the women who were killed during the year are from communities that we work with to promote the right to health," he adds.
"For us it is really important to be here today, not as individuals but as an organization working with at-risk groups in all areas controlled by Israel."
Not everyone was engulfed by the tone of solidarity enveloping the day's events. At least two incidents during which men watching the protest from the streets attempted to violently confront female protesters before being forcibly escorted away by police.
i24NEWS was able to speak to Ra'am, an activist from Israel's Gay Youth Organization (IGY) who was energetically leading chants and running from police road block to another until they finally had a moment to sit down, directly in the middle of the busy intersection.
Ra'am and about a hundred others who were part of the larger protest sat in the middle of the busy intersection while another group of several dozen women and men sat in front of the highway exit.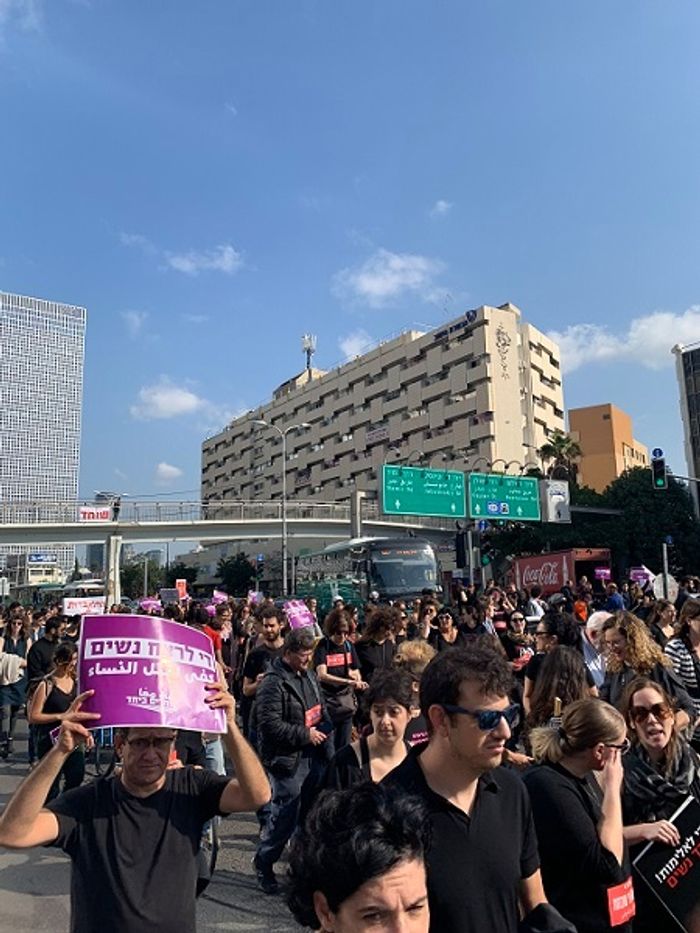 "Everyday women are being hurt and killed and it is like water to us. We think its nature. It has to stop being seen as natural," Ra'am said, preferring not to give i24NEWS their last name.
"Part of our struggle, alongside with LGBTQ rights, are feminist and women's rights because the fact that we treat women like they can get beaten or killed, and it is part of 'private' life, is a very hard thing in our society right now, in Israel and throughout the world," Ra'am said.
"The violation of LGBTQ rights, women's rights, or the rights of minorities are all connected," they said.
Activists from various human rights groups, businesses, and educational institutions marched together, wearing red as a symbol of female blood and carrying signs brandishing the messages "Enough with the murder of women" and "It is time to wake up."
On November 26, 13-year-old Silvana Tsegai and 16-year-old Yara Ayoub died in separate suspected murder incidents, joining the list of 22 Israeli women and girls murdered this year.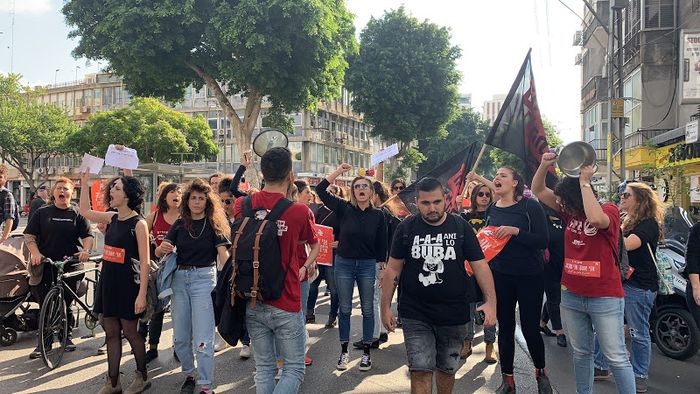 In the days following, women and their allies from all geographical, ethnic, and religious groups in Israeli society have mobilized against what they see as a lack of governmental action to combat heightened rates of femicide, or the murder of women.
"We are striking because decision-makers must realize that actions are required, not empty words," the organizers said in a statement Monday that called on the public to strike from work and take to the streets on Tuesday "to stand up to negligent indifferent and demand solutions."
"We demand the transfer of the NIS 250 million budget promised a year and a half ago, for the emergency plan to prevent violence against women," organizers said, calling for additional programs and increased public enforcement to prevent domestic violence.
More than 300 public and private institutions, including nearly 50 municipalities throughout the country and 11 labor unions, have expressed support for the strike and allowed employees to miss work in order to participate in demonstrations. However, some municipalities and businesses have reserved the right to dock the day off from cumulative vacation days.
The demonstrations are set to take place into the night on Tuesday as Israelis who did not stay home from work are expected join protests in the evening hours.
Ellie Stern is a journalist and editor at i24NEWS.