Protester arrested in demonstration by Christians against Haifa art exhibition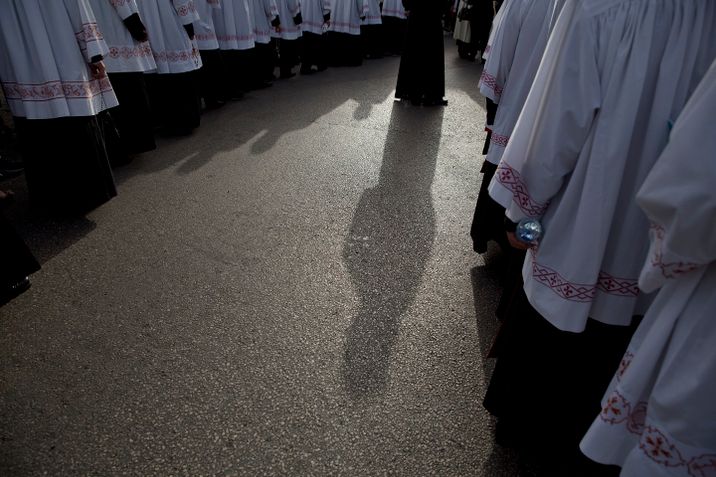 Christian altar boys participate in a parade in Haifa, Israel, Sunday, April 10, 2016.
AP Photo/Ariel Schalit
Three policemen also injured in protest of provocative piece bringing together religion and consumer culture.
An Israeli police spokesperson said on Friday that one person had been arrested as hundreds protested the exhibition of a statue seen to be blasphemous to the Christian faith in the northern Israeli port city of Haifa.
Three policemen were also injured in the protests that happened a day after a firebomb was thrown at the museum.
The sculpture, by Finnish artist Jani Leinonen, is called 'McJesus' and features iconic US fast-food chain McDonald's Ronald McDonald crucified on the cross. 
McJesus' sculpture by Finnish artistc Jani Leinonen . . . to see more of his work: https://t.co/ZhqIKE0dvU pic.twitter.com/xBVNpf4gM1

— Dr Can Erimtan (@TheErimtanAngle) January 12, 2019
It has been hung on Haifa Museum of Art's wall for months, but lately came under attack from Israel's Christian community.
Leinonen is famous for his clashing use of modern and ancient iconography as a way to make an artistic point about consumerism and collective obedience. 
He has in the past crucified the Kellogg's rooster, and decapitated Ronald McDonald, in an elaborate 2010 prank meant to look like an Al-Qaeda style execution, which garnered a lot of media attention and led to his arrest.
Israel's culture minister Miri Regev stepped into the debate last week, sending a letter to the director of the museum protesting the exhibition after receiving complaints from many in the Christian community.
"Contempt for symbols sacred to religions and many believers around the world as an act of artistic protest is illegitimate and cannot be displayed in a cultural institution supported by state funds," said Regev in the letter seen by Haaretz.
She hinted at the fact that official support for the museum could suffer as a result of the exhibit.
Miri Regev has used the financial element of her portfolio in order to push a radical cultural policy forward in the past. She has for example been the proponent of a controversial bill that would require cultural institutions to comply to strict loyalty to the state codes in order to receive funding.
The museum responded that following consultation with community leaders, they would put up signage warning of potentially offensive content.
More than 14% of Haifa's population is Christian, but the city is also the largest city in the Galilee, a region of Israel with a large Christian population.
It is unclear why the protest became so active now, when the exhibition has been opened since August 2018. 
In accompanying notes, curators said that the exhibition, 'Sacred Works', "focuses on the responses of contemporary artists to issues of religion and faith in the contemporary global reality."
The Leinonen piece was part of an ensemble of "provocative works that address the collaboration between religious systems and consumer culture," the notes say.