Dramatic rescue as vehicles swept away in Jerusalem flash flood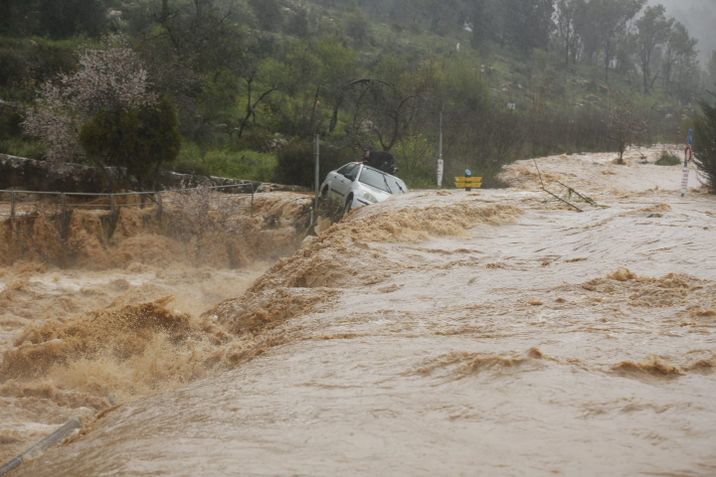 Flash flood near Jerusalem on February 28, 2019
Israel Police
As winter rains continue to wash over Israel this week, two people were caught in a flood while driving near Jerusalem on Thursday.
Police, fire, and rescue teams are on the scene, though it is still unclear if more people have been caught in the deluge.
WATCH: Dramatic footage shows Israeli rescue teams at the scene of heavy flooding just outside #Jerusalem, helping two people who were caught in it. (Credit: @israelpolice and @Mdais)

Read more HERE: https://t.co/52fxi0GoBH pic.twitter.com/UdoGhQvsdf

— i24NEWS English (@i24NEWS_EN) February 28, 2019
The rains will continue over the next couple of days, as temperatures remain cold, lower than the average for the season.
The year has brought an unusually harsh winter in Israel, with ample precipitation, strong winds, and relatively cool temperatures.
At the start of the year, powerful storms hit Israel that led to extensive flooding in coastal and low-lying regions.
Last month a dust storm swept across the country, raising an air pollution warning that recommended people avoid outdoor activity.
While Israel is known more for its relentless summers, its lack of winter infrastructure and preparation leaves it vulnerable to relatively difficult weather conditions.
Last April, a sudden storm that caused flash flooding in southern Israel's Negev desert led to the drowning of ten 18-year-old pre-military students on a hiking trip.
Europe has also faced an unusually difficult winter this year, with brutally cold temperatures sweeping over the continent.