Gay pride parade assailant found fit to stand trial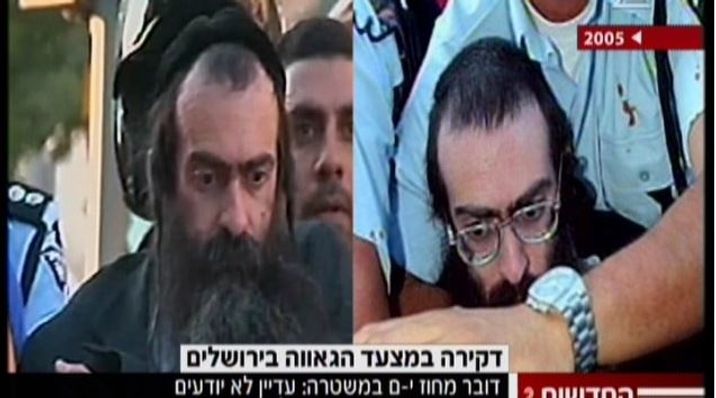 Side by side pictures showing Yishai Schlissel in 2005 and 2015 stabbing attacks at Jerusalem gay pride parades
Screenshot/Channel 2
Schlissel, an Orthodox Jew, spent 10 years in prison for similar attack; Netanyahu visits wounded in hospital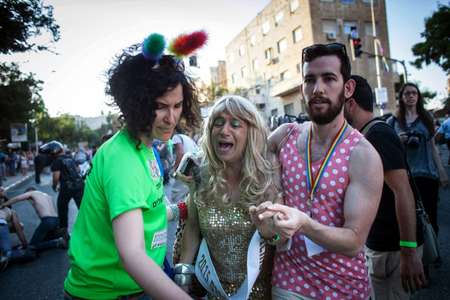 Yishai Schlissel, ultra-Orthodox Jewish man who stabbed and wounded six participants, two of them seriously, underwent a psychiatric evaluation on Friday and was found fit to stand trial. Schlissel spent 10 years in prison for a similar attack he committed at the 2005 parade and was released from prison only three weeks ago.
His arrest was prolonged by ten days. Schlissel said in court that he does not recognize its authority, because it did not follow Biblical laws, and refused to be represented by an attorney.
In response to the attack, Israeli Education Minister Naftali Bennett announced on Thursday a massive enlargement of funds for Israel Gay Youth (IGY), Israel's gay youth organization, following a stabbing attack earlier at Jerusalem's annual Gay Pride parade. Bennett did not specify the amount of funding
Bennett is not the only religious figure in Israel who made a positive gesture towards the LGBT community in the wake of the attacks; the Chief Rabbi of Jerusalem, Aryeh Stern, had made a visit to the wounded in the hospital Friday. Stern condemned the attack but refused to comment on the religious point of view on LGBT rights. "I came to pray for the wounded, all the other issues can wait a bit," Stern said.
"This is a day of prayer for the wounded's health. Disagreements will wait," Stern added. "I represent a religious public and we are all, and rabbis in particular, shocked by what happened. Judaism and bloodshed do not go together."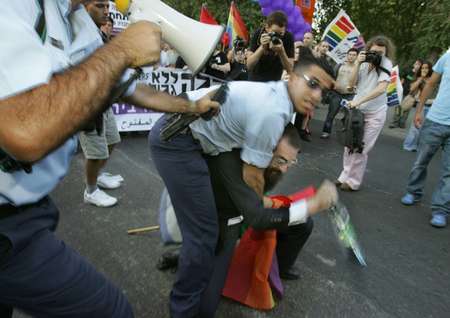 It was the worst attack in years on the event in Jerusalem, a divided city where the religious population is more prominent than in other parts of Israel and highlighted the tension nationwide among disparate social groups.
Israeli Prime Minister Benjamin Netanyahu called it "a despicable hate crime", and President Reuven Rivlin warned that social intolerance could spell disaster for Israel.
Netanyahu, who visited the victims in the hospital Friday said to one of them, Yarden Noy, that "the right to live in security is granted to each and every one in Israel and we will protect it."
Bennett, the leader of religious Zionist Jewish Home, also ordered senior members of the Education Ministry under his charge to prepare an educational plan to prevent acts and incitement against the homosexual community.
"I won't allow it, that in the state of Israel, youths fear going out in the streets because of their lifestyle," said Bennett. "We respond to this attack with actions and not just with words, so as to strengthen and to give tools to youth suffering from racism and homophobia in schools."
The parade has long been a focus of tension between Israel's predominantly secular majority and the ultra-Orthodox Jewish minority.
Related: Israel: Police under fire over failure to prevent Gay Pride Parade stabbing
MK 'comes out' after Gay Pride attack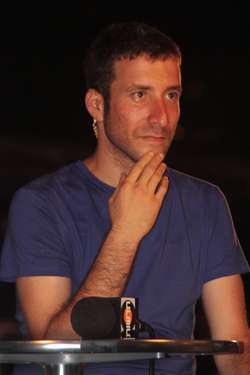 Following the attack Member of Knesset Itzik Shmuli (leftist Zionist Union) came out of the closet.
MK Shmuli wrote an article on Friday's Yediot Ahronot daily under the headline "The Knife is Raised on My Community," in which he wrote, "We cannot be silent any longer because the knife is raised on the entire LGBT community -- my community -- and it won't stop there.
"A terrible criminal act happened again in the city of God, attacking all of us. It attacks the right of us all to be different, to make our own choices, accept our differences and accommodate each other.
"Israeli society is wounded, stabbed in the stomach," he added. "It loses its compassion for other people just because they are different. It loses its acceptance of others.
"In the name of some religion, [the attacker] pulled out his knife and began to stab once. And again. And again," said Shmuli.
This is the first time that Shmuli has publicly commented on his sexuality, despite longtime speculations on the matter. Several months ago, Gal Uchovsky, a well-known gay Israeli journalist published a column in which he hinted that one of the MKs of the Zionist Union is gay and closeted.
Uchovsky is controversial in Israel, especially in the LGBT community, for his habit of outing several public personas and celebrities as gay.
You need to be logged in in order to post comments. Sign up or log in
Flaunt your sexuality (hetero or homo) at the beach and keep it out of Yerushalayim, the city of modesty. By the way, there is no such thing as "ultra- orthodox" - there is observant and not observant - placing the label of ultra is merely an attempt to demonize religious people which is beneath the dignity of this news organization.