660,000 Jews are prohibited from marrying in Israel: report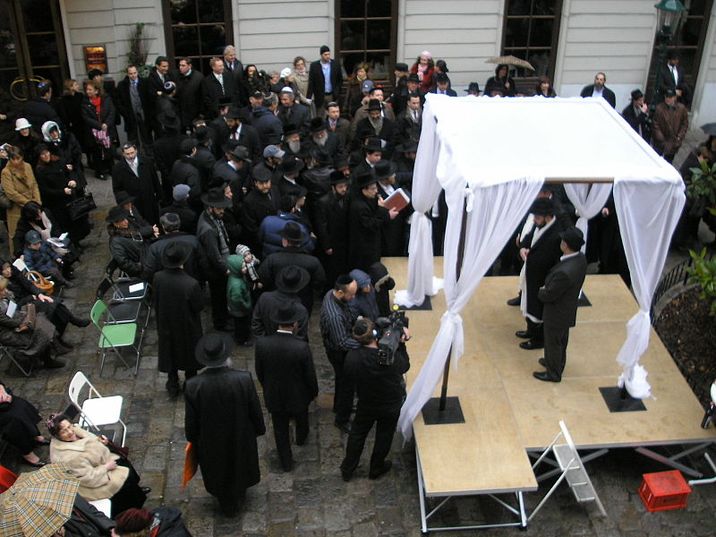 Illustrative photo of Jewish wedding
Wikimedia commons
These citizens do not meet ultra-Orthodox Chief Rabbinate's requirements to allow a "Jewish' wedding
A new report from Hiddush, a nonprofit dedicated to religious freedom, shows that the current laws in Israel are prohibiting 660,000 Jewish-Israelis from getting married in the country, The Jewish Telegraphic Agency (JTA) reported Monday.
More than half of this number, 364,000, are immigrants from the former Soviet Union, according to the report. 284,000 are gays and lesbians, 13,000 are people who converted to Judaism but did not have an Orthodox conversion, along with various other individuals, says Hiddush.
For Jewish citizens, all weddings and divorces in Israel are under the control of the ultra-Orthodox Chief Rabbinate.
Non-Orthodox and civil weddings are not allowed in Israel, forcing those who wish to have a ceremony that is not officiated by a Rabbinate approved Rabbi, to go overseas to get married, and then return to register the marriage.  According to the report, 20 percent of marriages registered in Israel were officiated abroad.
Additionally, immigrants who have converted but did not have an Orthodox conversion, citizens who wish to have a same-sex marriage, or interfaith marriages are not allowed to marry.
The report also showed that the majority of Israelis do not even want an Orthodox wedding ceremony, with 70 percent of people saying that they would opt out of an Orthodox ceremony if the choice was available, said the JTA.
A press release from Hiddush said that the findings in the report were presented at a Knesset conference on "alternatives to marriage through the [Chief] Rabbinate," on Monday.
During the Knesset conference, Hiddush head Rabbi Uri Regev said that an increasing number of the Israeli population "wish to be free of the Rabbinate's shackles."
Rabbi Regev stressed to the conference that the "monopoly of the Rabbinate" hurts Judaism because it "leads the general public to hate Judaism and identify it with dark, ugly extremism."
In a poll conducted by Hiddush, 64 percent of people said that they support "official recognition of all types of marriage," which includes same sex marriages, said the JTA.
The annual Israel Religion and State Index, published in September of 2015, also showed that 61 percent of Israelis would completely sever the relationship between church and state.
In November of 2014, a bill was introduced that would widen the pool of rabbis allowed to authorize conversions in Israel. The bill's sponsors hoped that it would perhaps increase flexibility and encourage "religionless" Israelis to convert to Judaism.
The bill was struck down, however, as a condition set down by the ultra-Orthodox party Shas for joining the coalition government of Prime Minister Benjamin Netanyahu.
Out of 196 countries in the world, 45 others have strict marriage policies comparable to Israel's, the majority of them Muslim countries, said the Hiddush report.
Hiddush states that its findings are based on information gathered from the Israel Central Bureau of Statistics as well as opinion polls, sad the JTA.   
You need to be logged in in order to post comments. Sign up or log in
Given the orthodox's grip on Israel' s society, as described in the article, are those criticizing this situation antisemites? Answer: no, not necessarily, they could be friends. Are Shas playing G d? Answer: yes, looks like it.