A league of their own: Meet the Israeli women trying to launch a female footvolley league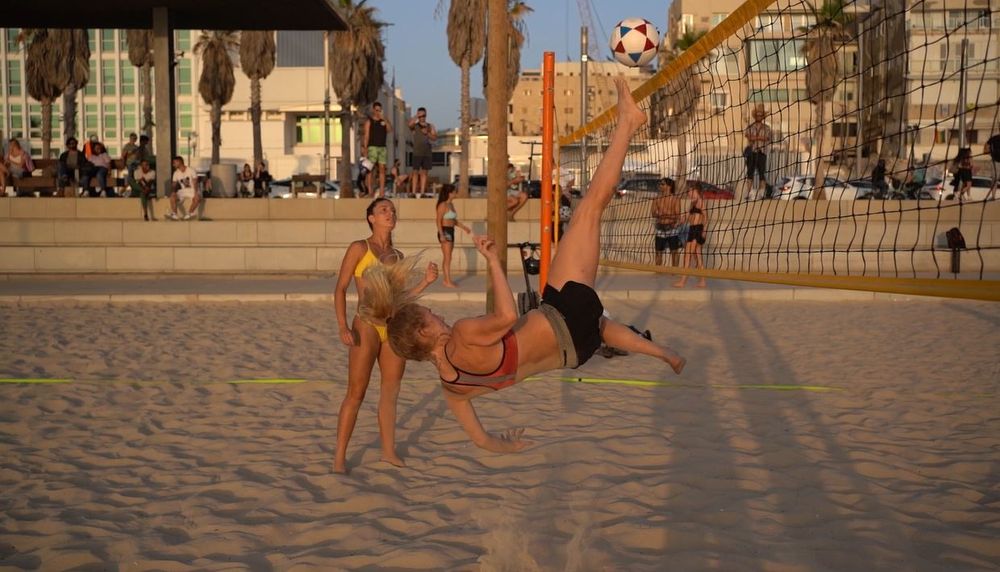 Footvolley has taken over the beaches of Tel Aviv, with hundreds of people hitting sand courts to play the unique sport – a combination of soccer and volleyball
Footvolley has taken over the beaches of Tel Aviv, with hundreds of people hitting the sand court to play the unique sport – a combination of soccer and volleyball.
Footvolley has Brazilian roots, but in recent years has picked up popularity in Israel, becoming more than just a fun beach pastime.
"The lifestyle, there's nothing like it. I wake up in the morning and the first place I go to is the beach. I don't open my eyes, I get a ball in my face, and you're already sweating, and you're up, and you started your day like this," Illy Levy, a professional footvolley player in Israel, told i24NEWS.
Walk up and down the beaches in Tel Aviv and you'll see soccer balls flying over volleyball sand courts. What makes the sport so difficult is players can't actually touch the ball with their hands.
"You basically end up using your feet, your shoulder, your chest, your head, but no hands at all. So it makes all the control of the ball way more tricky," said Levy.
But for its growing popularity in Israel, it's still mainly a men's sport.
"There's one association that is in charge of all the footvolley in Israel," Levy explained. "The majority of its activity focuses on men at the moment. It also makes sense because there are a lot more men playing, but at the same time, you know, it should be men's sports and women's sports if you're an association especially."
That's what Levy and her partner Marjorie Finguerman are looking to change.
"We're starting to build Futilina, which is basically the home of footvolley for women in Israel," Finguerman told i24NEWS.
Finguerman and Levy are top-ranked competitive players in Israel and even represented the country in the European championship.
"We live this sport in Israel. The girls that play in Europe don't often live this sport because of weather or other conditions. We live this sport, we play with our hearts, so I think very fast we made big progress," said Levy.
In just two years, they pushed Israel from 12th place to 2nd in the European League, but it's all been on their own dime.
"It's a big expense that you have to represent the country. We don't have something or someone that says, 'Wow, these girls are putting so much effort into the sport to show Israel to the world'," said Finguerman.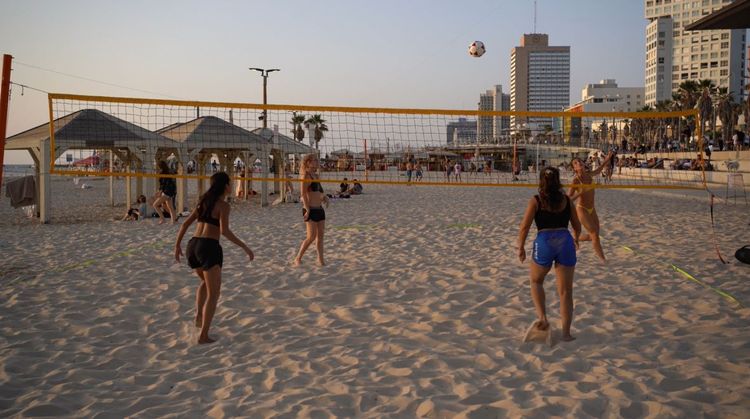 With Futilina, their goal is to start Israel's first-ever women's footvolley league.
"We make [women] feel comfortable, and we make them feel secure and confident to show us the best part of them and to play this amazing sport," said Finguerman. "It's a very challenging sport, and once you get the technique you feel so good because it's also very beautiful movements."
They say once someone starts kicking the ball in the sand, they'll immediately catch footvolley fever.
"Once you start to get this touch with the ball, and you start to feel the sand, it catches you. You can't escape. I close my eyes and I think of what I did with the ball," said Levy with a grin.
The two women bring a fierce passion to the sandpit, but to make their dream a reality, they need sponsors and donations.
"We're asking for [$27,000] to buy equipment, to be able to buy balls, to buy water, to actually build a nice structure for the league of the women like the men have," explained Finguerman.
All of the money will go right into the league, providing fresh opportunities for women of all ages in sports.
"I don't want my daughter to fight as I fought. I want her to feel comfortable to arrive somewhere and to be herself and to be the best version that she can be, and people allowing her to do that instead of her having to beg to play for example," said Finguerman.
On the beaches of Tel Aviv, Levy and Finguerman are changing the playing field one sand court at a time.
This article received 0 comments