Ronaldo scores twice in Saudi reunion with PSG's Messi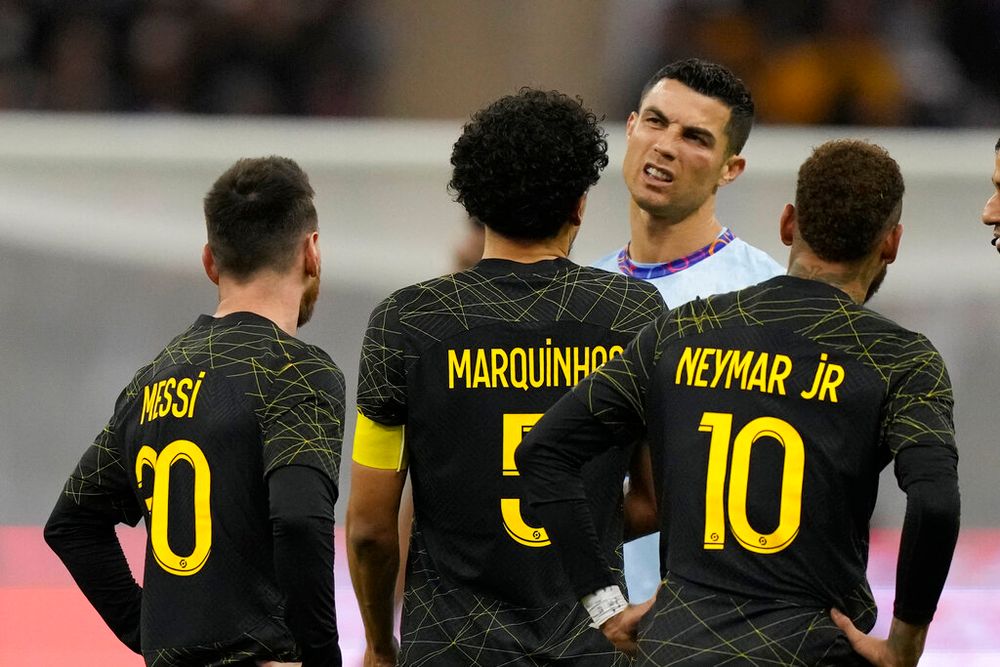 Ronaldo of Saudi Arabia's Al Nassr and Messi of PSG both got on the scoresheet, but the French giant came out on top with a 5-4 victory
Cristiano Ronaldo and Lionel Messi on Thursday rolled back the years as both soccer legends battled it out in an exhibition match between Riyadh Season and Paris Saint-Germain (PSG).
Riyadh's Ronaldo and Messi's PSG both got on the scoresheet, but the French giant came out on top with a 5-4 victory.
While the match may not have much significance for the teams involved, soccer fans around the world got plenty of bang for their buck as a story that has dominated the sport for over a decade appeared to come to an end in a memorable goal-fest.
Ronaldo – who joined the Saudi kingdom's Al Nassr team at the end of 2022 with a deal worth over $430 million – was punched by PSG goalkeeper Keylor Navas, resulting in a penalty shot which he scored and then added another one in his first appearance since moving to the Gulf state.
For Qatar-owned PSG, Messi and Kylian Mbappe both scored and Neymar missed a penalty before they withdrew at the one-hour mark alongside Ronaldo, who was representing a composite Saudi side made up of Al Nassr and rival Al Hilal.
Hundreds of millions of dollars worth of soccer players were on view for the match in the Saudi capital, which came just weeks after neighboring Qatar spent lavishly on the first World Cup on Arab soil, won by Messi's Argentina.
Among the packed crowd at the 69,000-seat King Fahd Stadium was a Saudi real estate mogul who paid $2.6 million at auction for a ticket giving him dressing-room access to the players.
This article received 0 comments