Resisting pressure, NFL players greet fans on trip to Israel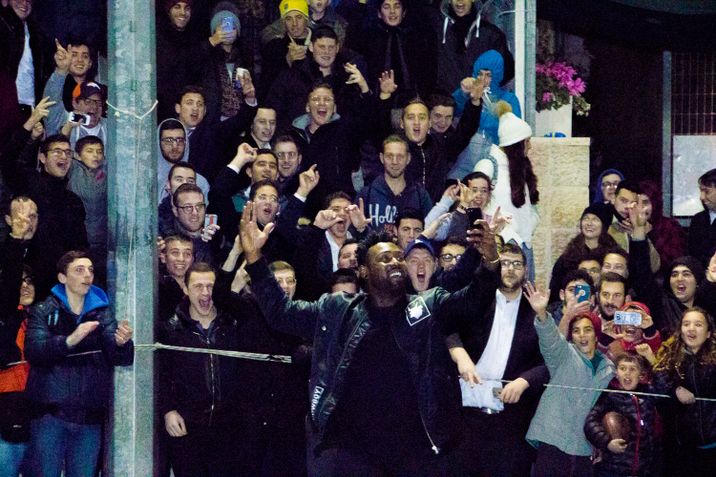 Delanie Walker
Jessi Satin
After a storm of controversy, five US football players tour Israel's cities and holy sites
"I really liked that I got to see the Western Wall," Oakland Raiders defensive tackle Dan Williams tells i24NEWS from the middle of a throng of fans scrambling for autographs and yelling "we love you Dan!"
"Are the Raiders going to win the Super Bowl next year?" asks a teen wearing a kippa (skull cap) while handing Williams a football to sign. "Of course!" Williams smiles back.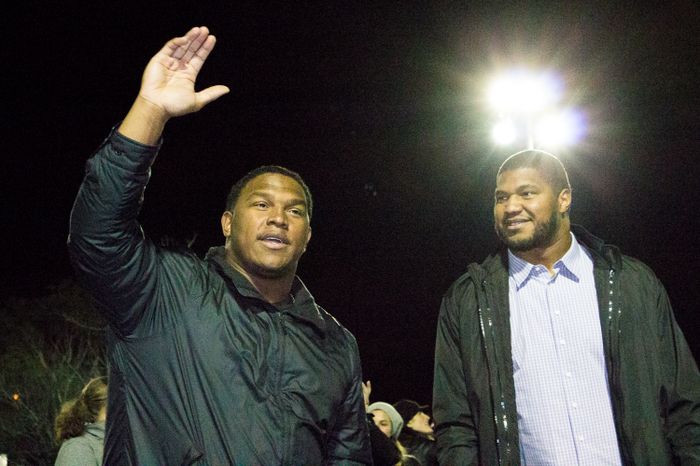 Williams was one of five National Football League (NFL) players to greet fans in Jerusalem Saturday night as part of a special half-time event during a quarter-final match of the Israeli Flag Football League featuring the Har Nof Hillbillies and the Tzionim.
He was joined by Tennessee Titans Tight End Delanie Walker, Arizona Cardinals Defensive End Calais Campbell, Cameron Jordan- Defensive End for the New Orleans Saints, and Philadelphia Eagles Linebacker Mychal Kendricks.
The roar from the crowd of a few hundred people packed into the small Kraft Stadium was deafening, and the players almost showed more enthusiasm than the fans.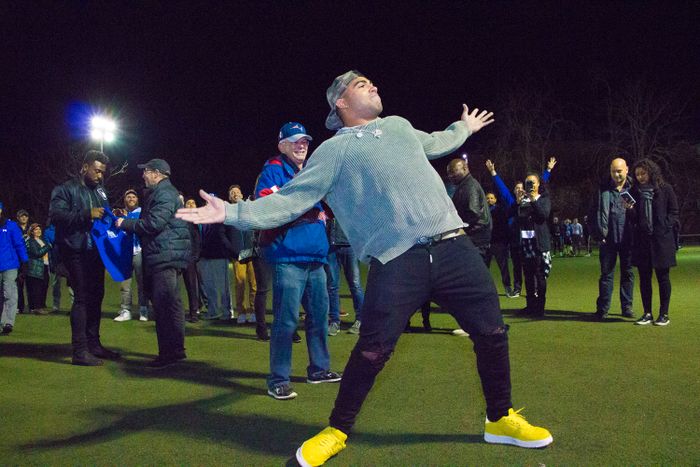 American Football in Israel hosted Saturday night's event, and now boasts a membership of more than 2,000 players and five tackle and flag football leagues.
"The people who are here tonight are all American football fans - many of them play the game and many of them come out to watch their friends play," Steve Leibowitz, founder and current president of American Football in Israel told i24NEWS. "For all of them the top of the game is the NFL, and for a select few who play the greatest game - as far as we are concerned - to come out and join us here in Israel is always an honor."
The week-long visit by the players was organized in a joint effort between the Ministry of Strategic Affairs and Public Relations and the Ministry of Tourism, but did not come without controversy.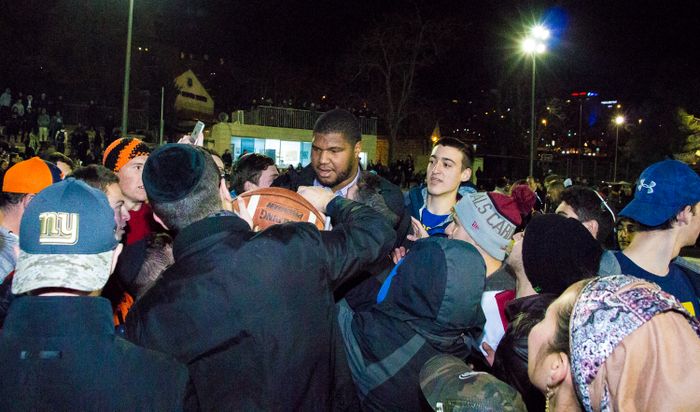 Seattle Seahawks defensive end Michael Bennett, who was scheduled to be part of the original delegation of 11 NFL players to visit Israel as part of a goodwill tour sponsored by the Israeli government, announced a few days prior that he had decided to cancel his participation in the trip over concerns that he would be used for an influence campaign.
Bennett sent out a five-word tweet saying "I'm not going to Israel."
Im not going to Israel pic.twitter.com/KWzA0nCiFb

— Michael Bennett (@mosesbread72) February 10, 2017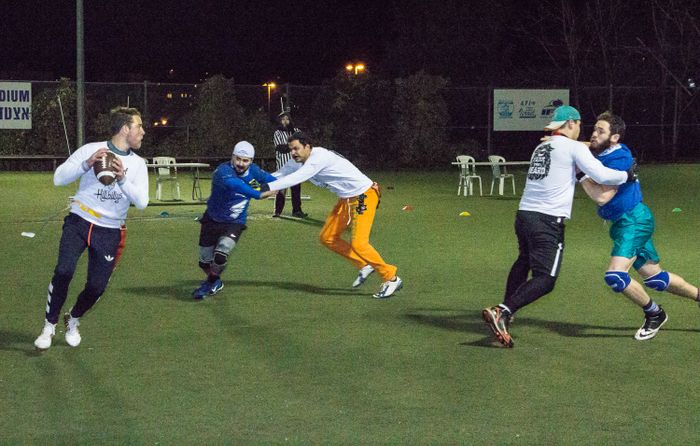 He followed by posting a lengthy letter to "the world" in which he explained that he "was excited to see this remarkable and historic part of the world with my own eyes," but was not aware that the trip's "itinerary was being constructed by the Israeli government for the purposes of making me, in the words of a government official, an 'influencer and opinion-former' who would then be 'an ambassador of good will.'"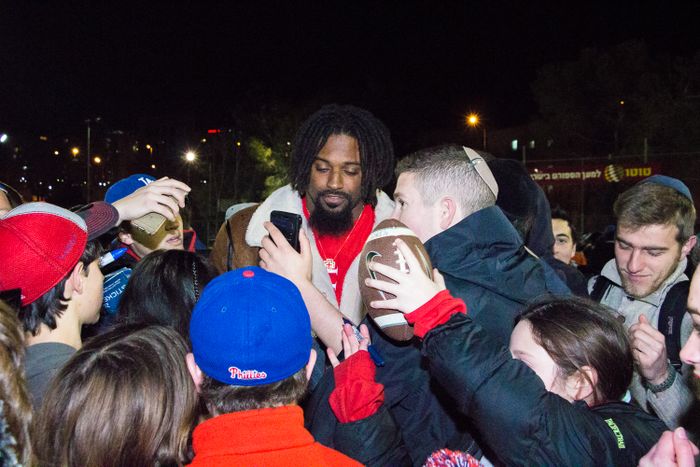 A press release from the Israeli government announcing the visit quoted Gilad Erdan, the Israeli minister for strategic affairs and public diplomacy, as saying that "The ministry I lead is spearheading an intensive fight against the delegitimization and BDS [boycott, divestment and sanction] campaigns against Israel, and part of this struggle includes hosting influencers and opinion-formers of international standing in different fields, including sport."
Tourism Minister Yariv Levin was also quoted, explaining that "The football players are a source of inspiration for the people of the United States."
"I'm sure that after experiencing the unique sights and atmosphere of the country, the players will become loyal ambassadors of Israeli tourism," he added.
"I will not be used in such a manner," Bennett wrote in his letter, adding that when he does go to Israel, which is still on his agenda, "it will be to see not only Israel but also the West Bank and Gaza so I can see how the Palestinians, who have called this land home for thousands of years, live their lives.''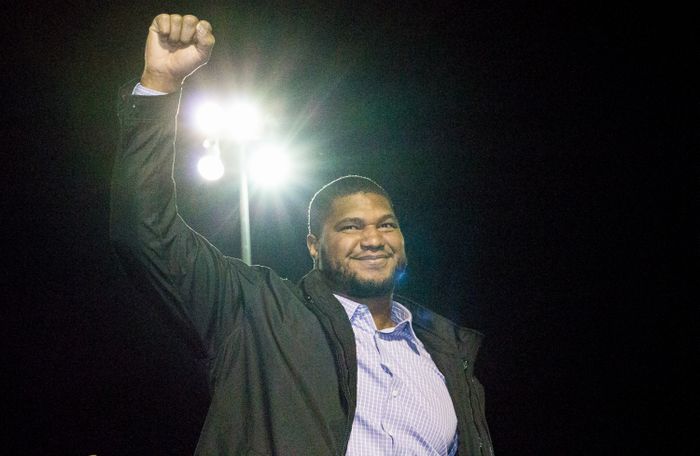 Bennett's decision was likely influenced by an open letter by musicians, artists and social justice advocates which urged the players "to consider withdrawing from the delegation given Israel's track record of human rights abuses.''
The letter, signed among others by entertainer and activist Harry Belafonte, activist Angela Davis, actor Danny Glover and former sprinter John Carlos, asked the players "to consider the political ramifications of attending the trip, drawing connections between the struggles faced by Black and Brown communities in the U.S., and Palestinian, Eritrean and Sudanese communities in Israel/Palestine.''
After Bennett withdrew, five more players followed suit, including his brother and recent Super Bowl Champion Martellus Bennett.
For the players who did chose to come, they were given a full itinerary of events, including visiting Tel Aviv, Jerusalem and Haifa, as well as Christian holy sites in northern Israel, near the Dead Sea, and Masada. On the agenda were also visits to Rambam Hospital, Yad Vashem, and meeting with the African Hebrew Israelite community in Dimona.
They too met resistance to their choice to come on the trip, but have held their own.
"The trip is still on going - the journey is still continuing, we are not closed to anything but open to positivity and understanding," Cameron Jordan tweeted to someone questioning his decision.
He appears to be following that mindset, documenting his trip on social media.
Our Israeli Palestinian Muslim tour guide today which led us to the predominantly muslim part of Jerusalem was truly insightful #thankyou pic.twitter.com/ecHynjXST7

— cameron jordan (@camjordan94) February 18, 2017
"Our Israeli Palestinian Muslim tour guide today which led us to the predominantly muslim part of Jerusalem was truly insightful ‪#thankyou," he posted on Saturday, with a photo from Jerusalem's Old City.
Earlier in the week he posted a photo of the group at the Sea of Galilee in northern Israel on his Instagram account.
"Old Scripture and new knowledge the journey of going beyond hearsay," the caption reads.