Jerusalem soccer club pledges to crush racism after anti-Arab chants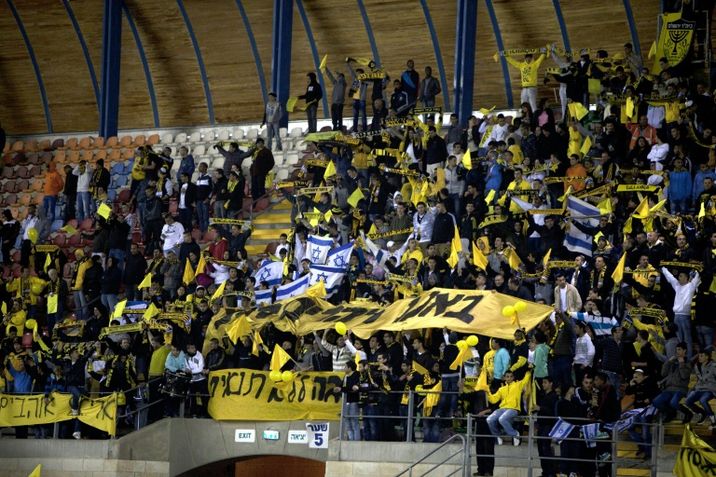 Beitar Jerusalem is the only club in the Israeli league that has never had an Arab player
Ahmad Gharabli (AFP/File)
Team chanted: 'I hate all Arabs,' 'Burn down your village' and 'Muhammad is dead'
Israeli football club, Beitar Jerusalem announced on Tuesday that it would take drastic measures to deal with racist chants often heard during its matches following a confrontation with an Arab-Israeli team the day before.
Beitar said it would immediately close the eastern part of its home stadium where fans, during a game on Monday against Bnei Sakhnin, chanted "I hate all Arabs," "Burn down your village" and "Muhammad is dead," according to the Times of Israel. This section of the arena, with a reputation of house far-right fans, sits around 31, 733 soccer fans and includes the ultra-nationalist "La Familia" faction of which 19 members have been previously charged with attempted murder.
In a statement released by the club it said that the were "taking the gloves off in the battle against violence and racism."
Promising to tackle the issues, the statement added: "The club is disgusted and will fight those fans who are severely harming it, in light of the behavior during the match against Bnei Sakhnin. Therefore, a decision has been made to close the eastern section to fans until further notice."
The announcer at Teddy Stadium reportedly told the fans to stop the shouting but his interjection was ignored.
The team, according to the Times of Israel, vowed to take "even more drastic measures including revoking season tickets from fans in eastern sections." Adding that, "anyone who behaves that way cannot be called a Beitar fan."
Jerusalem Beitar, one of Israel's top soccer clubs, has in the past been accused of inciting anti-Arab and anti-Muslim sentiment among its management. It is known as the only club in the history of the Israeli league not to have an Arab Muslim player.
They have also, in the past, chanted support for Yigal Amir, a far-right Jewish nationalist who assassinated Israeli prime minister Yitzhak Rabin in 1995.
The club, which is currently one point away from the top position, club has a suspended punishment of a two-point reduction for previous racist chants by its fans.
Miri Regev, Minister for Culture and Sports said she would call an "urgent meeting on the subject of violence" and said that "we will take strong action."