Under national flag, Israeli judo team wins bronze medals at UAE tournament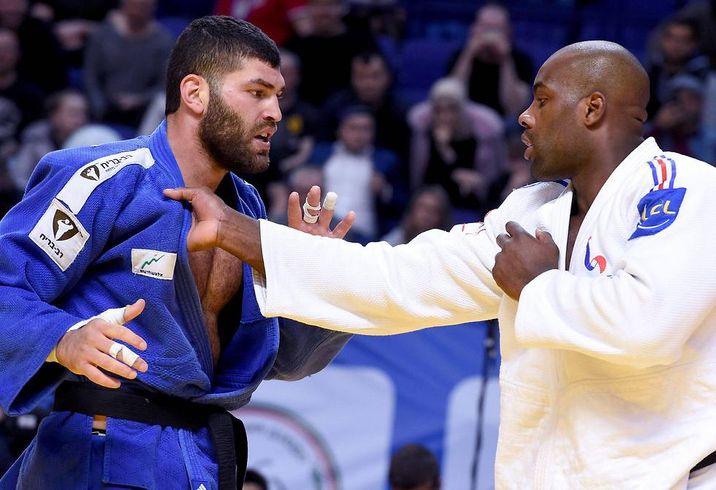 Israeli Judoka Ori Sasson (L) fights Frenchman Teddy Riner (R)
AFP
Israel's judo team, competing under its national flag for the first time ever in a Gulf State, won three bronze medals in Abu Dhabi international Grand Slam tournament on Saturday.
Gili Cohen, Baruch Shmailov and Timna Nelson Levy all finished third place in their weight classes and a fourth Israeli athlete, Gefen Primo came fifth. Israel constitutes one of 62 nations competing in the event, scheduled to conclude on Tuesday.
Sports and Culture Minister Miri Regev accompanied the team to the United Arab Emirates making her the first Israeli minister to visit the state as an official representative since the two countries do not have official diplomatic ties.
The competition has been mired by diplomatic tensions since the International Judo Federation (IJF) in July suspended plans for the UAE to host after they failed to confirm that Israeli athletes would receive equal treatment.
A month later, the IJF then announced that the Grand Slam tour competition would again be hosted by the UAE after the country agreed to allow Israeli contestants to participate in the event brandishing their national symbols, such as the flag, and playing the national anthem if one of its athletes win a gold medal.
At the time of the UAE's suspension, the federation said it "is aware that the situation and incidents registered are due to a complex and complicated political and historical context, but we strongly believe that politics should not have any interference in sports."
The IJF hailed the submission of the UAE as a victory for its vision of maintaining sport as a neutral ground for citizens of all nations.
At the competition last year in Abu Dhabi, Israelis were forbidden from competing under their nationality, as organizers banned the display of the Israeli flag or any identifying symbols and refused to play the national anthem for Israelis who received medals.
The discriminatory policy was directed solely at Israeli participants, with all other teams allowed to display their nationality without restrictions. The Israeli judo team chose still to perform at the event, but were instead forced to compete under the International Judo Federation flag.
The athlete's arrival marks another significant step for Israel as the country works to grow regional ties with Arab countries.
Earlier this week, Israeli Prime Minister Benjamin Netanyahu arrived in Oman for an unannounced visit with the Gulf state's leader, Sultan Qaboos bin Said.
The meeting was a significant step as the two countries have no official diplomatic relations, as well as for Netanyahu who frequently comments on his work behind the scenes to warm ties between Israel and its Arab neighbors.
Netanyahu often comments on the warming ties between Israel and its Arab neighbors, citing Iran's behavior in the region as one of the reasons.