Basketball star Lebron James courts controversy with 'Jewish money' social media post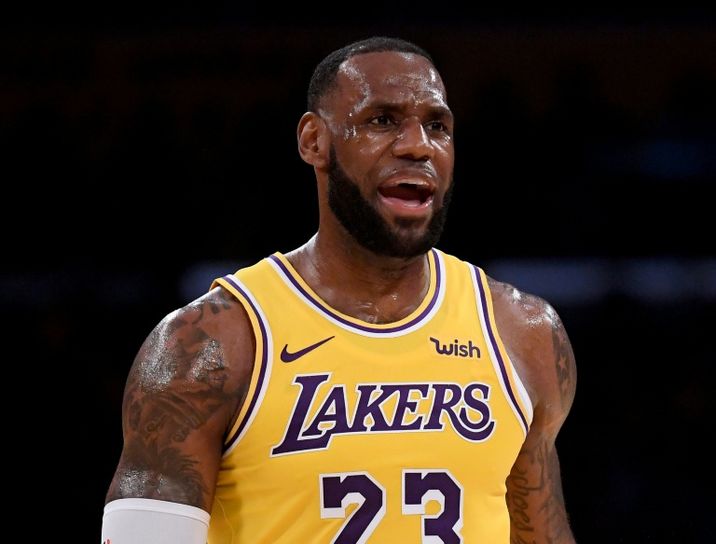 LeBron James' Staples Center debut for the Los Angeles Lakers ends in defeat to Denver
Harry How (GETTY IMAGES NORTH AMERICA/AFP)
James later apologized for the post and said his intent was 'definitely not to hurt anybody'
Basketball superstar Lebron James courted controversy over the weekend after posting a video of himself on social media rapping along a song that includes a lyric about getting "Jewish money" -- an anti-semitic trope that suggests all Jews are wealthy.
James came under fire after a video posted to his Instagram account showed him rapping the line from 21 Savage's song "Asmr".
"We been gettin' that Jewish money, everything is Kosher (On God) Bought myself a 'Ventador and bought my b**ch a Roadster (Straight up) Drive my Lambo to the store, I'ma wave with my doors," the full lyric goes.
The post sparked a wave of backlash and criticism among James's nearly 46 million Instagram followers and was soon deleted from his account.
"Apologies, for sure, if I offended anyone," James told ESPN amid the controversy.
"That's not why I chose to share that lyric; I always (post lyrics), that's what I do. I ride in my car, I listen to great music and that was the byproduct of it," he explained.
"So, I actually thought it was a compliment and obviously it wasn't through the lens of a lot of people; my apologies. It definitely was not the intent, obviously, to hurt anybody."
.@KingJames is facing serious criticism by #Jews and Reporters after posting a selfie accompanied tenuously #antisemitic text to his Instagram account quoting rapper 21 Savage's song lyrics saying: "We getting that #Jewish money, Everything is #Kosher". https://t.co/tmLSy2cWGq pic.twitter.com/V9UKq8Cpu7

— Adam Milstein (@AdamMilstein) December 23, 2018
The incident sparked renewed debate about the use of such tropes among industry elites and whether criticism of those who re-post lyrics they did not write is justified.
Last year, Jay-Z came under fire over a line in his track "The Story of OJ" off his otherwise celebrated "4:44" album, in which he rapped that "Jewish people own all the property in America".
Twitter users criticized the line, apparently intended as praise of the savvy of investment and credit building, for evoking common stereotypes of Jews: That they are all wealthy, and that they dominate property markets.
The Anti-Defamation League responded to the criticism expressing concern that the line seemed "to play into deep-seated anti-Semitic stereotypes about Jews and money" but defending Jay-Z as someone "someone who has used his celebrity in the past to speak out responsibly and forcefully against the evils of racism and anti-Semitism."
See also: