NBA star Kanter to miss London visit after death threats over Turkey criticism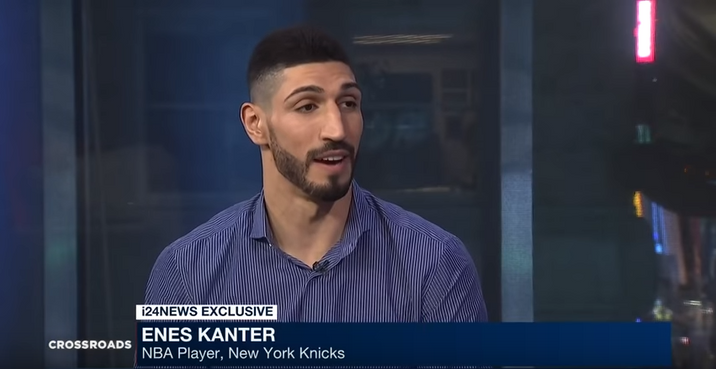 New York Knicks center Enes Kanter speaks to i24NEWS
i24NEWS
Turkish-born New York Knicks center Enes Kanter will skip a game against the Washington Wizards in London next Friday after receiving a stream of death threats over his criticism of Turkish President Recep Tayyip Erdogan.
Kanter has long been a vocal critic of what he sees as a violent and dictatorial regime in Turkey. In December 2017, Turkey's state-run Anadolu news agency reported that prosecutors were seeking more than four years in prison for Kanter on charges of insulting Erdogan in a series of tweets he posted in 2016.
Speaking to i24NEWS on Wednesday, Kanter said that he decided to skip the January 17 match against Washington at London's O2 arena for fears that he would be "hunted down" by the government.
"The Turkish government is very famous for hunting down people who speak out against the government, especially in Europe. There have been a lot of cases  in many countries that [Erdogan] has been hunting down teachers, journalists and community leaders," he said.
"When I talked to my teammates they said 'don't risk it.'"
Since a failed military coup in 2016, Turkey has rounded up tens of thousands of people accused of supporting exiled US-based cleric Fethullah Gulen, whom Erdogan accuses of masterminding the attempted putsch.
Former Turkish NBA player Hedo Turkoglu, now a chief adviser to Erdogan, accused Kanter of leading a "smear campaign" against Turkey and claimed that the Knicks star was sitting out due to visa issues, not threats on his life.
"Kanter can't enter the UK not because of fears for life as he claims but due to passport and visa issues. This being the long-known truth, he is trying to get the limelight with irrational justifications and political remarks," Turkoglu said.
"Such remarks constitute another example of the political smear campaign Kanter has been conducting against Turkey as well as his efforts to attribute importance to himself by covering up the contradictions in his sports career. ... It is obvious that this person's remarks are irrational and distort the truth."
Kanter responded by tweeting a picture of a travel document permitting him visa-free travel and calling Turkoglu a "delusional" mouthpiece for the Turkish government.