'Life-saving' Israeli bandage can stop severe bleeding within minutes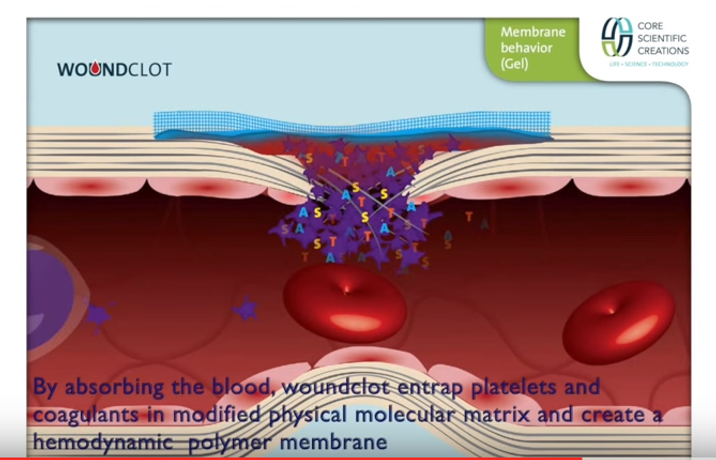 The bandage could have particular impact on the battlefield, where severe bleeding is the no. 1 cause of death
A new Israeli medical innovation has produced a 'unique' bandage that can stop severe bleeding within minutes, potentially saving lives, Reuters reports..
The Woundclot bandage, developed by Core Scientific Creations, has a "special molecular structure" that means it can absorb large quantities of liquid without falling apart, according to its inventor, Dr. Shani Eliyahu Gross, who is the vice-president of CSC.
"When it is exposed to liquids, this product starts to absorb enormous amounts of blood and then it transforms into a gel state," Dr. Gross told Reuters.
According to Dr. Gross, the more blood the bandage absorbs, the quicker it will clot.
The bandage's efficacy — as well as the fact that it doesn't require pressure to be applied to the wound — means that it has significant implications for the field of battle, where uncontrollable bleeding is the number one cause of death, according to CSC CEO Yuval Yaskil.
This is particularly relevant for head and neck wounds, where applying pressure does not stop the bleeding.
"These products allow us to treat very severe bleeding in the field, with minimum amount of, I would say, training, with minimum amount of interfering with the regular medical treatment or protocols that are used today," Yaskil told Reuters.
Explaining what sets the Woundclot apart, Yaskil added: "Our product is unique because it is the only product in the market that is non compressional application for severe bleeding while at the same time being bio-absorbable."
The Israel Police are already making use of the Woundclot, Reuters reports, and CSC is also selling it to hospitals.
At just shy of $10 per bandage. CSC's invention at the high end of the market for such products, but Yaskil argued that cheaper options are a false economy.
"We are replacing very, very expensive products because … our product doesn't have any active ingredients in it, it just works on a physical level, on a biological level, on a physiological level, that's what it does," he told Reuters.
"But it does it so efficiently that in many cases we replace products that have active ingredients that are supposed to promote coagulation."