Israeli satellite destroyed in SpaceX test launch explosion in Florida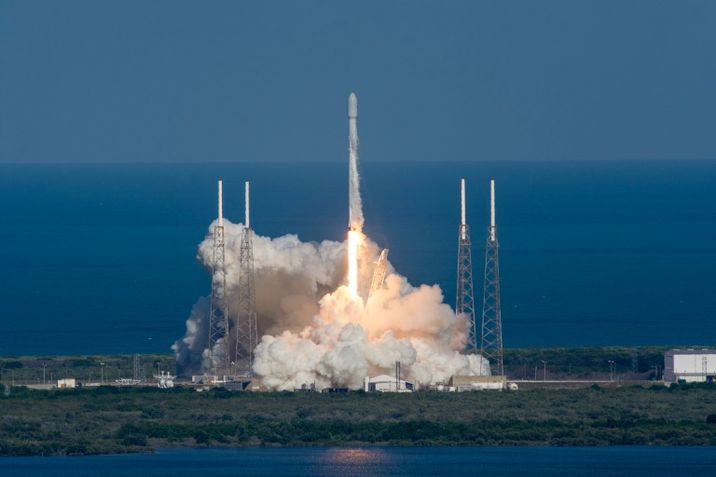 SpaceX's Falcon 9 rocket, carrying the Thaicom 8 satellite, lifts off from Cape Canaveral, Florida on May 27, 2016
SpaceX/AFP
Israel's Amos 6 satellite was to be launched Saturday to serve Facebook and bring Internet to Africa
A $200 million Israeli satellite was destroyed when a SpaceX rocket exploded during a pre-launch test at the Kennedy Space Center in Cape Canaveral, Florida on Thursday, the company confirmed.
SpaceX said both it's Falcon 9 rocket and payload, Israel's Amos 6 satellite, were lost in the pre-launch explosion, which the company said was caused by an "anomaly" on the launch pad.
"SpaceX can confirm that in preparation for today's static fire, there was an anomaly on the pad resulting in the loss of the vehicle and its payload," the private aerospace firm said. "Per standard procedure, the pad was clear and there were no injuries."
The Israel Space Agency said in a statement that the loss of the Amos 6 satellite will have a "substantial affect on the Agency," the Jerusalem Post reports, adding that the explosion occured during the feuling of the missile launcher.
Amos 6, manufactured by Israel Aerospace Industries (IAI) and owned by Spacecom, was set to be launched into space Saturday on a 16-year mission intended, in part, to serve Facebook's Internet.org project and bring Internet connectivity to sub-Saharan Africa.
Facebook founder and CEO Mark Zuckerburg said in a statement that he was "deeply disappointed to hear that SpaceX's launch failure destroyed our satellite".
"We remain committed to our mission of connecting everyone, and we will keep working until everyone has the opportunities this satellite would have provided," he added.
Spacecom spokesman Joshua Shuman told i24news that "SpaceX is continuing to determine the cause of [the] anomaly" and that Spacecom would make information available as it is released.
IAI said in a statement that Amos 6 was the "most advanced" satellite ever built in Israel by IAI and the Israel Space Agency (ISA), the Post reports.
Weighing 12,125 pounds (5,500 kilograms), the satellite was SpaceX's heaviest payload to date, according to the Space Flight Insider website.
Pictures from the launch site showed a plume of black smoke rising into the sky.
Billionaire Internet entrepreneur Elon Musk, who heads the California-based company, launched SpaceX in 2012 with the hope of transforming the rocket industry by re-using expensive rocket parts traditionally left to fall discarded into the oceans.
The company has ambitions to send its first unmanned spacecraft to Mars in 2018 and a manned mission to the red planet as early as 2024.
SpaceX had successfully launched a Falcon 9 last month, sending a Japanese communications satellite into orbit and then landing the rocket on a floating drone ship.
The explosion comes just over a year after a Falcon 9 rocket failed just after liftoff, on June 28, 2015, destroying a Dragon cargo capsule bound for the International Space Station (ISS).
The firm has also lost several rockets as it attempted to land them upright on an ocean platform at the end of a flight.
Read more:
- Facebook will use Israeli satellite to provide internet to sub-Saharan Africa
You need to be logged in in order to post comments. Sign up or log in
September 1, 2016 6:03 PM
See, Michael Farmer, An Israeli satellite to bring Facebook to Africa. Or is it a Zionist plot to occupy space?
September 2, 2016 1:25 AM
Haven't the brains? I think Microsoft, Apple, Google, Intel, HP, Facebook etc beg to differ.. my point being that had the rocket not exploded, Africa would have greater access to internet thanks to Israeli engineering ingenuity. Must really irritate you that Israel actually makes a difference in this world
September 2, 2016 9:52 AM
"Israeli engineering ingenuity"? Not a phrase much used, Neil.
September 2, 2016 1:26 PM
Perhaps not by yourself, but to the rest of the civilised world. Funny how all leading tech and medical companies have major R&D offices in Israel. Must be just for show then, huh?