Why carry your devices if you can wear your technology instead?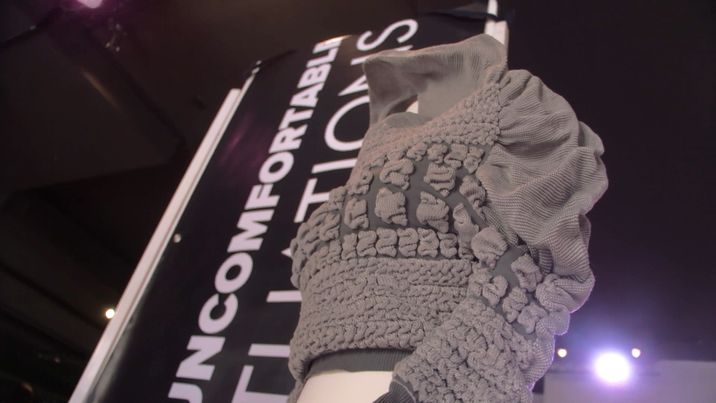 Sweater for Uncomfortable Social Situations by Sasha de Koninck
i24NEWS
Israeli tech firms are showcasing their talents at the Wear It festival in Berlin
BERLIN - Clothes that control the music, garments that safeguard firemen and maintenance workers and even a sweater to comfort you in awkward social situations. Fashion meets technology at the Wear It festival in Berlin, an event devoted to expanding the field of wearable electronics.
"We are still basically wearing the same things our grandparents did, just the cut is different, but imagine how much technology has evolved since then," explains Thomas Gnahm, the festival's founder, speaking to i24NEWS. "We think now is the time for fashion to catch up to technology."
Many of the products featured in the festival serve health and safety purposes, replacing the common light reflectors with LEDs, warning the wearer of rapidly approaching objects, measuring temperature and vital signs or intensifying a physical workout. Others are purely for fun, like jackets that allow wearers to control sound with the touch of a sleeve, or garments sequenced with flashing lights for attention-loving club goers.
One sweater, designed by American Sasha de Koninck, is even intended to sense when the wearer is in an uncomfortable social situation based on perspiration rate and other indicators, and to release a sound meant to either sooth the person or alert his surroundings.
Creativity is key in this emerging scene, and this is also what makes the Israeli tech industry so interesting, in Gnahm's eyes. "You have a lot of startup there and many young people who are innovators. Our scene is small, so we need all the good people in the world working together and in Israel there are all these talents and we want to welcome them here."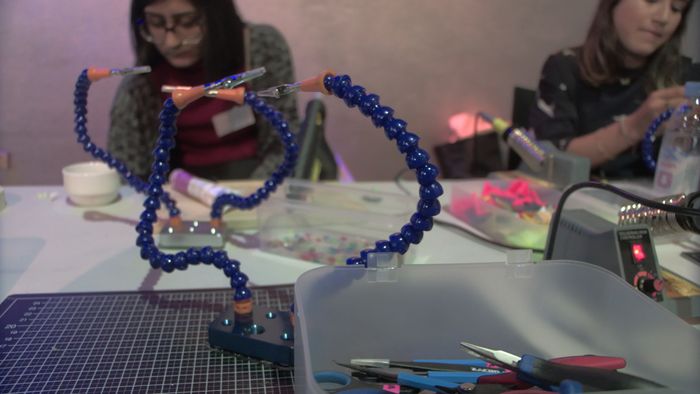 Israel's involvement in the fashion tech world is growing, but it is not yet a leading force, says Yael Kochman, CEO and co-founder of the Tel Aviv-based Fash&Tech Innovation Center. She estimates 250 such companies now operate in Israel, supplying technological solutions to both manufacturers and costumers.
"Israel is not really known for its fashion, not like France or Italy, but Israel is definitely known for its technology and today a lot of startup companies are trying to leverage the tech knowledge coming from different fields like machine learning, big data, artificial intelligence – and blend it into the fashion world and change the way that fashion is produced, marketed and consumed," she says.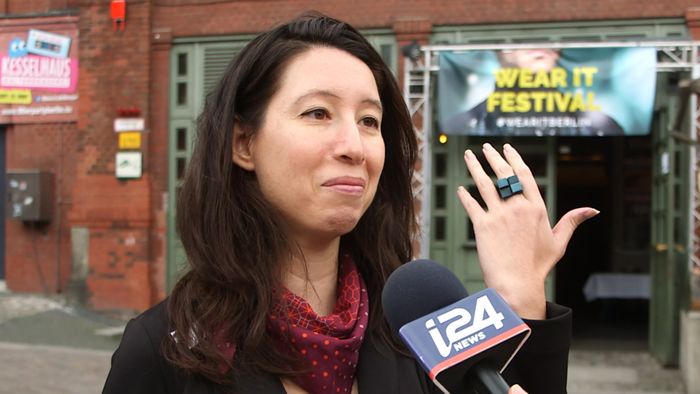 Kochman, speaking at the festival in a panel on investments in the fashion tech space, is a walking example of the benefits of such technologies. Her 3D-printed ring doubles as an automated "panic button," capable of sensing when a person is in distress and issuing an alert. Her scarf was produced using an app that allows users to choose the color, print and size of the garment – all for the sake of personalization.
"Today everyone wants to be their own designer," she noted, "to wear something that defines them and they want to customize the designs."
Pushing the envelope even more is Digiwell, a German company promoting subdermal implants as substitutes for house and car keys, PIN codes or a gym card. Their offer of a free chip implant evoked much interest among festivalgoers, although only a few dared to undergo the procedure.
"Why would you have something worn on your skin if the technology can be so small that it goes under your skin?" says Patrick Kramer, Chief Cyborg Officer at Digiwell. "The skin seems to be like a magic barrier but we are breaking this taboo."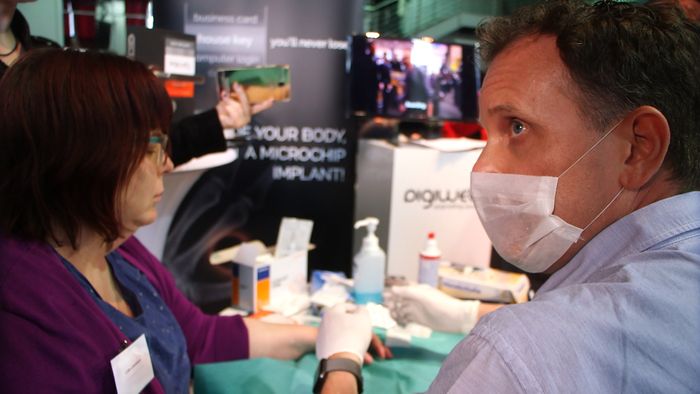 And the possible uses are endless, he insists. "It can interact with your smartphone. For example, you can put your business card on it, so there's no need to waste paper anymore. I have my wedding vows on it. Others tattoo their children's names – I have them on my implant. You can put your GPS coordinates there, emergency contacts, any kind of information."
One day wearables and even implants will become part of the mainstream, believe the organizers and presenters, "just like the mobile phone, which 20 years ago we didn't know we needed," says Kramer. But for that to happen, there are still great strides to be made – both in design and in the public's receptiveness.
Polina Garaev is the i24NEWS Germany correspondent