Israeli cyber firm negotiated deal for cell phone spyware with Saudis: report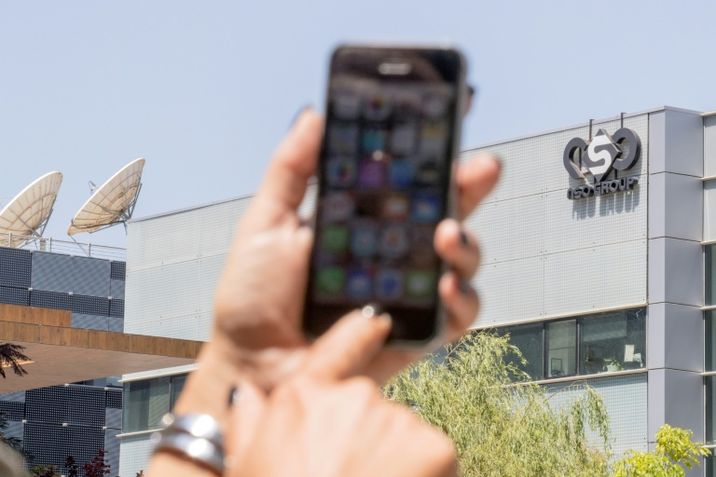 Israel-based NSO Group says its products are intended only for the investigation and prevention of crime and terrorism
JACK GUEZ (AFP/File)
Earlier this month, Edward Snowden claimed NSO spyware used in killing of Saudi journalist Jamal Khashoggi
The Israeli cyber-surveillance firm NSO Group is said to have negotiated a multi-million dollar deal providing Saudi Arabia with technology that will allow the Kingdom to hack its citizens cellphones and listen in on calls and other conversations taking place in the presence of the compromised mobile device.
Israel's Haaretz daily reported Sunday that representatives of the Herzliya-based NSO Group held a series of meetings in 2017 in Vienna and at least one Gulf nation during which a $55 million deal was negotiated to supply the Saudis with the firm's Pegasus 3 software.
The report said that following a number of meetings in Europe during which Israeli representatives showcased the power of NSO technologies, the Saudis tried to set up a meeting in Riyadh with an Israeli businessman who deals in defense-related technologies through Cyprus and was involved in the NSO negotiations.
After the Israeli Ministry of Defense -- which oversees the sale of the country's security technologies abroad -- refused to approve the trip, the Israeli businessman reportedly chartered a plane and flew NSO founder Shalev Hulio for three days of meetings in a Gulf country in June 2017 during which time the terms of a deal were finalized.
The report did not say whether the deal was actually closed or not.
The outcome of the talks is now subject of a legal complaint filed by an unidentified European businessman who claims to have been the initial interlocutor between the Israeli and Saudi parties, but who was then apparently frozen out of the deal -- including receipt of any commission.
The reported negotiations to sell the Israeli spyware to Saudi Arabia comes amid intense scrutiny of the Kingdom's crackdown on dissidents following the rise of Crown Prince Mohammed bin Salman to power in June 2017.
Earlier this month, US whistleblower Edward Snowden accused the NSO Group of being linked to the killing of Saudi journalist Jamal Khashoggi.
NSO's Pegasus software has been pinpointed by independent experts as likely being used in a number of countries with poor human rights records. It was created to permit remote control of a cell phone by infesting it via a Trojan horse email link, allowing audio surveillance; real-time observation of the screen; downloading of all its data; and control of the battery.
The existence of the "Pegasus" software was revealed in late August, when Apple updated its iPhone software after a human rights activist in the United Arab Emirates was targeted.
NSO maintains that the software is intended to be used exclusively for the investigation and prevention of crime and terrorism and that it investigates violations of this policy.
See also:
Lawsuits claim Israeli firm spied for Emirati regime: report