War of the future: Drones playing an essential role in the Ukraine war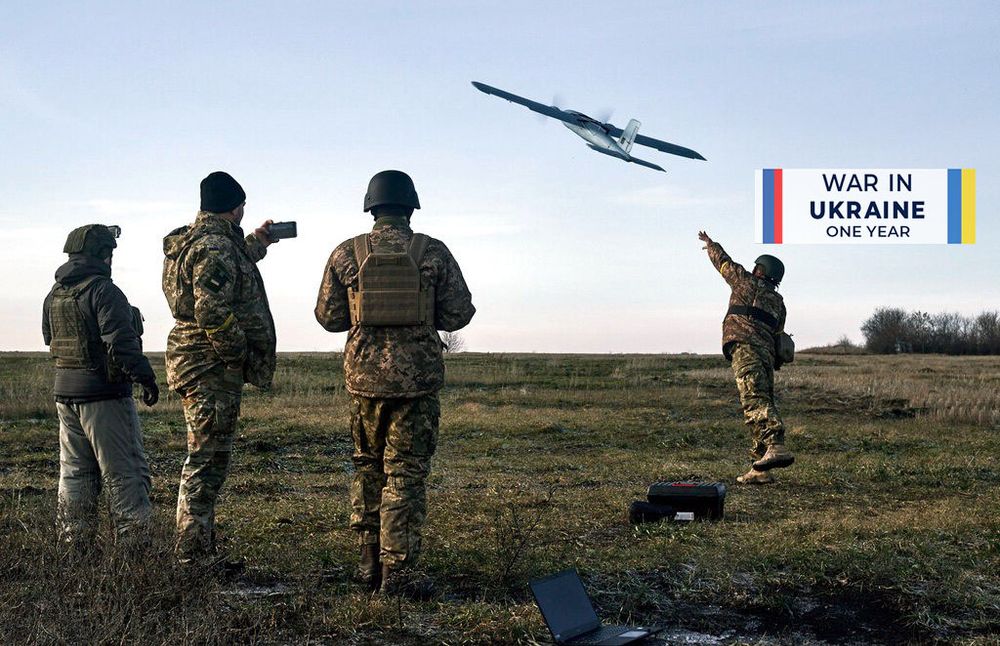 Drones, UAVs – once strictly used for intelligence gathering and reconnaissance, are now essential features of an offensive arsenal
In some ways, the war in Ukraine is one of the past – columns of tanks from one country invade a neighboring nation, conquering territory, even raising flags from the past; in other ways, it's a war of the future, displaying massive use of weapons rarely used before – at least not officially.
Such weapons have recently included drones and UAVs, used in many ways, by both sides, and even supplied by outside actors.
"Drones are enablers for better strategy and better use of how to solve the issue on the battlefield of accuracy and attack," said Alon Unger, founder and chairman of the UVID Dronetech conference in Israel.
Drones and unmanned aerial vehicles (UAVs) have been around for years but were used mostly for intelligence gathering and reconnaissance. If they were used for offensive purposes, it was usually kept secret.
It was only a few weeks ago that Israel acknowledged it has been using them offensively. Russia, however, is not hiding the fact that drones are of the utmost importance in its current war in Ukraine.
"In the near future, the Russian government must set up a national project to ensure the broad use of drones along with a high level of localization and manufacturing and training of personnel for unmanned aviation," urged Russia's President Vladimir Putin.
It's not only the Russians, either. The Ukrainian army is extensively using drones to hit large and undefended Russian convoys, and even within Russia itself. Much of the turnaround seen on the battlefield during the summer months last year was attributed to the use of drone strikes.
Why are drones more useful than the conventional rockets used for decades now? The answer is accuracy. Once a rocket is launched, there is usually no control over its path. But a UAV or drone packed with explosives and controlled from the ground can hit a target precisely without putting boots on the ground or pilots in the air, exposing them to danger.
"There is a different effect from a huge bomb regarding accuracy," Unger explained. "Drones provide accuracy and it helps the decision-makers not make big mistakes."
So, both Ukraine and Russia are constantly using them, but the demand is much larger than the local supply. Kyiv is counting on the West, but it's a different story for Moscow – another player has joined the unmanned vehicular fighting, one that is very worrying for Israel.
"We have been warning since July that Iran was planning to sell UAVs to Russia for use against Ukraine," said U.S. State Department spokesperson Vedant Patel in October of last year.
"We also exposed publicly that Russia has received drones from Iran," he continued. "This is part of Russia's plans to import hundreds of Iranian UAVs of various types, and that Russian operators continue to receive training in Iran on how to use these systems."
Both Moscow and Tehran continuously deny accusations such as Patel's, but the facts on the ground tell a different story.
"Overnight, the enemy (Russia) used 24 Iranian Shahed 136 drones. All of them were destroyed by the defense forces of Ukraine," said General Oleksander Shtupun, a spokesperson for the Ukrainian Armed Forces.
Most of the drones are currently destroyed, but Ukraine's skies are the perfect playground for Iran to observe and learn.
"We use new tactics and new weapons to deal with our enemies, both close and far," said Alireza Tangsiri, a commander of the Iranian Revolutionary Guard's Navy.
Should we expect Iran, or any other nation, to use offensive drones in any future war? Experts following this issue have no doubt.
"Automation and unmanned systems are going to be even more integral as we move forward into the future," suggested Dr. Andrew Shepherd, executive director and chief scientist at the National UAS Center in the United States.
"The technology is cross-cutting and becoming more user-friendly as well," he added.
Infantry and armored vehicles are still elements needed for victory on the battleground, but now drones and UAVs are also essential features of an offensive arsenal.
This article received 0 comments